Have you ever snapped a photo and then had to do a double-take because you couldn't believe what you were seeing? These people have, and, lucky for us, they've shared it with the internet. And if we can learn anything from their experiences with photography, it's this: the angle from which you snap a picture matters – and getting the wrong angle can lead to some hilarious results. Keep scrolling to see what we mean.
It's A Real Centaur
So you may be wondering what went wrong here. Well, her coat covers her back so you can't see where her legs start.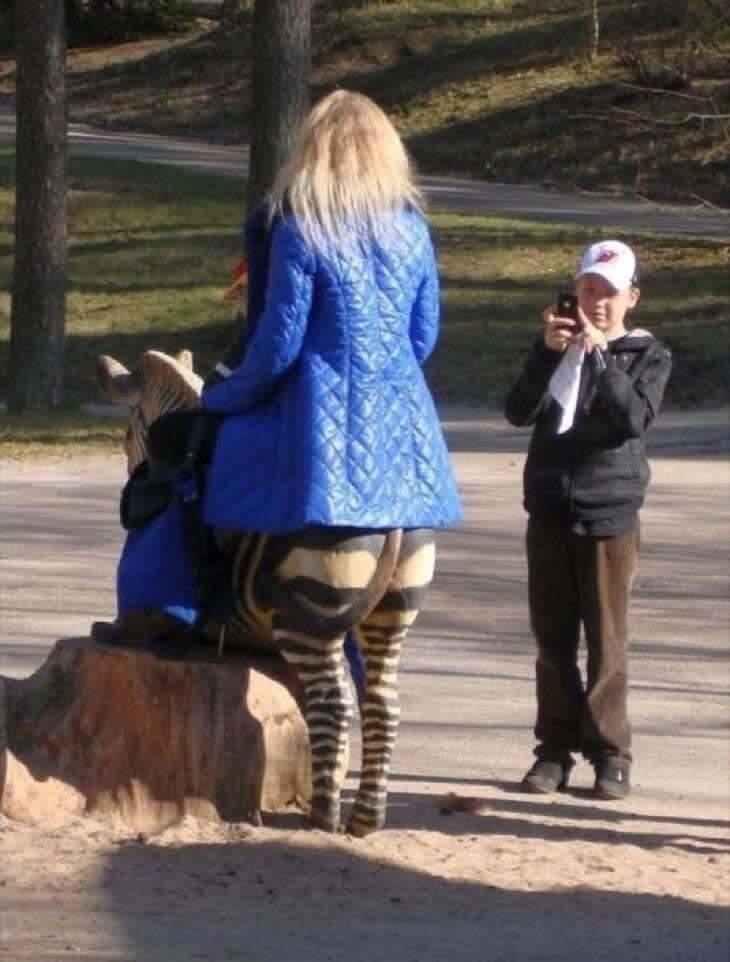 It could be an optical illusion, or she might actually be a centaur; guess we'll never know.
Two-Headed Puppy
If you are a Harry Potter fan, you might remember Fluffy the three-headed dog from Harry Potter and the Sorcerer's Stone.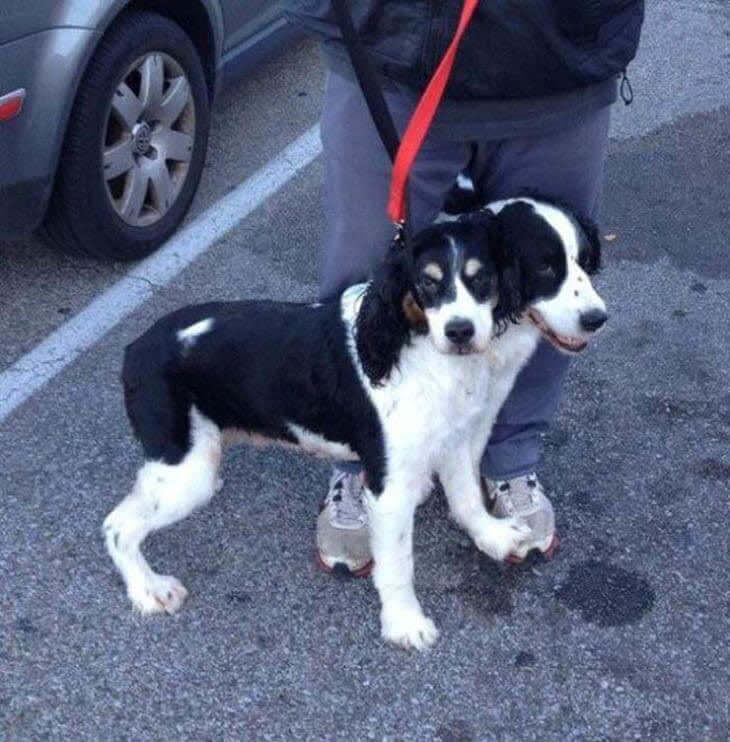 It is believed he had puppies with a two-headed dog, and this is one of their babies. How cute is baby fluffy.
Vroom, Vroom
This one will really blow your mind. Is it a separate car, or it that part of the van's design?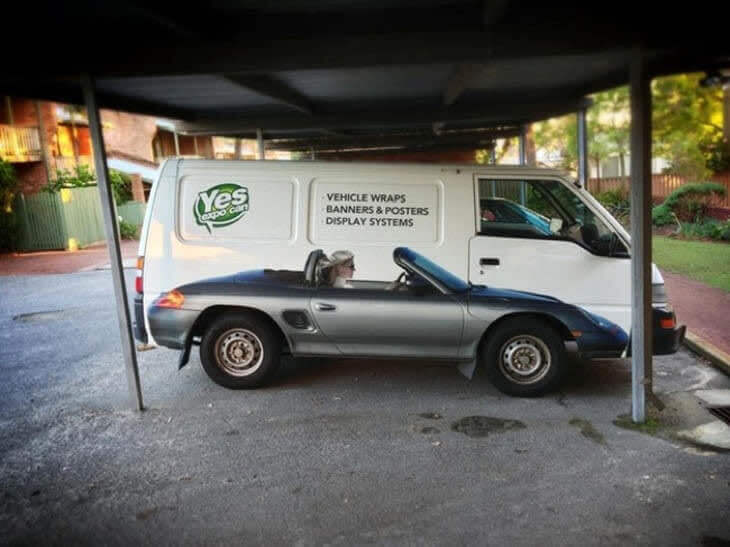 The third and correct option is that it is two separate cars, and the woman is part of the design on the van that lines up perfectly with the convertible.
He Is Rocking Those Daisy Dukes
This man is not afraid to show off his very long legs in those short shorts. He rocks them better than most people.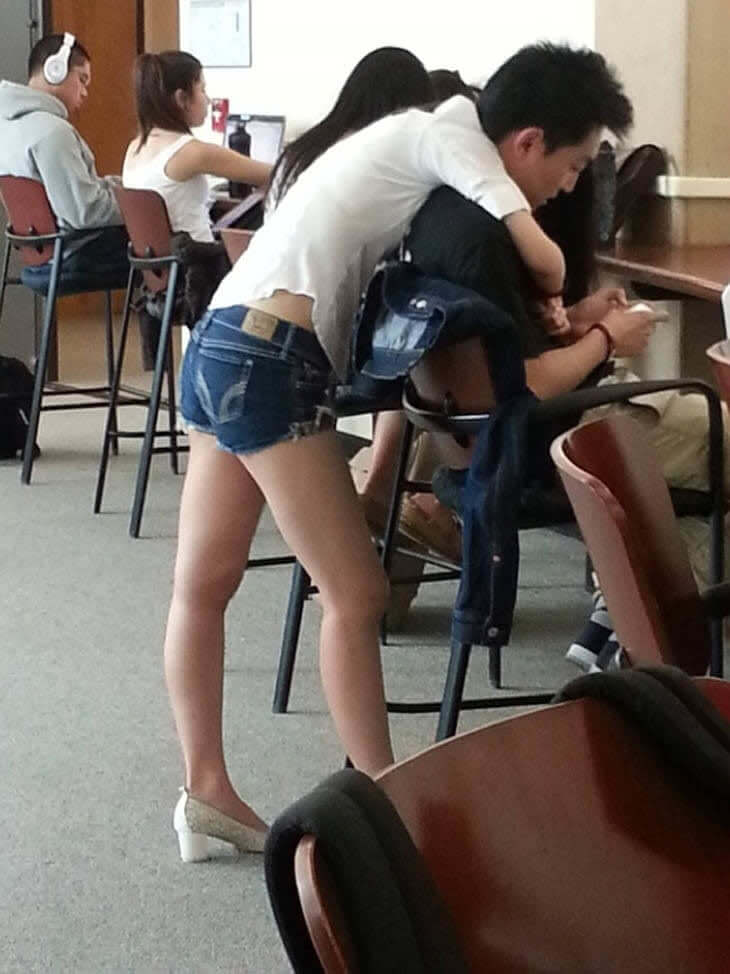 Unless that is his girlfriend standing behind him with her head hidden on his shoulder, which would make much more sense.
Giant Baboon On The Loose
What would you do if a giant baboon started attacking your car? Would you run away or would you try to drive your car?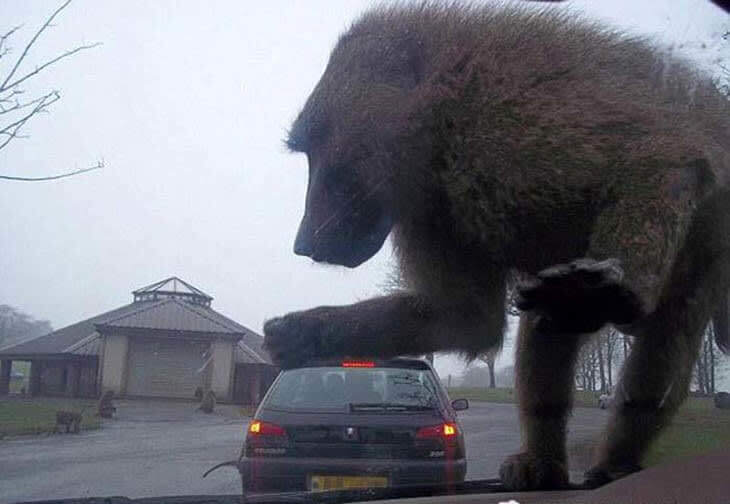 It looks like this baboon could pick up the car and play with it like a toy.
Peggy The Peg Leg
This runner has a case of the disappearing leg. We don't know where it went, but she might need it to run the race.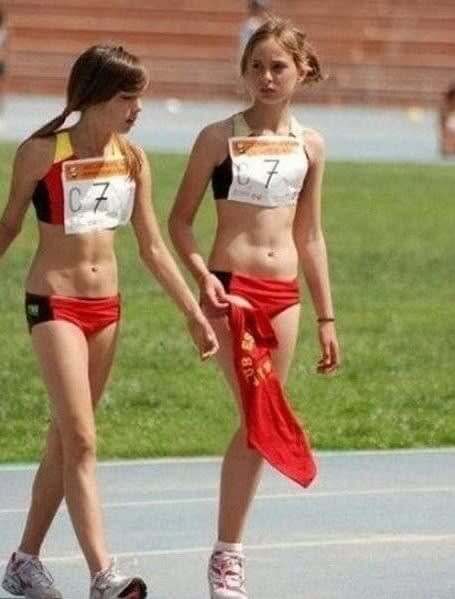 Even the other girl in the picture looks confused. She must be saying, "Girl, where did your leg go? Did you leave it in the locker room?"
Where One Cat Ends, Another Begins
Either this cat is good at splits, or two cats have morphed together. These cats are perfectly sitting to make one long cat.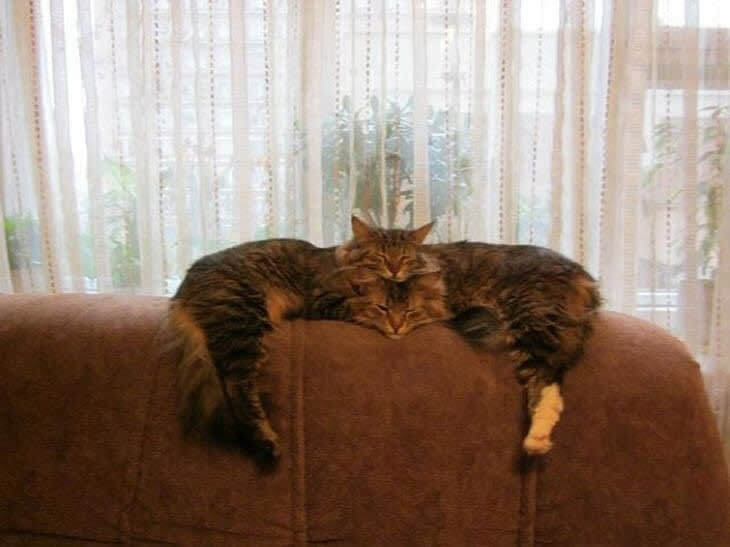 How do cats morph together? Is there some sort of machine that does it for you?
The Upgraded Flying Carpet
Instead of a flying carpet, we now have a flying stage. You can show the princess the entire world while performing a concert.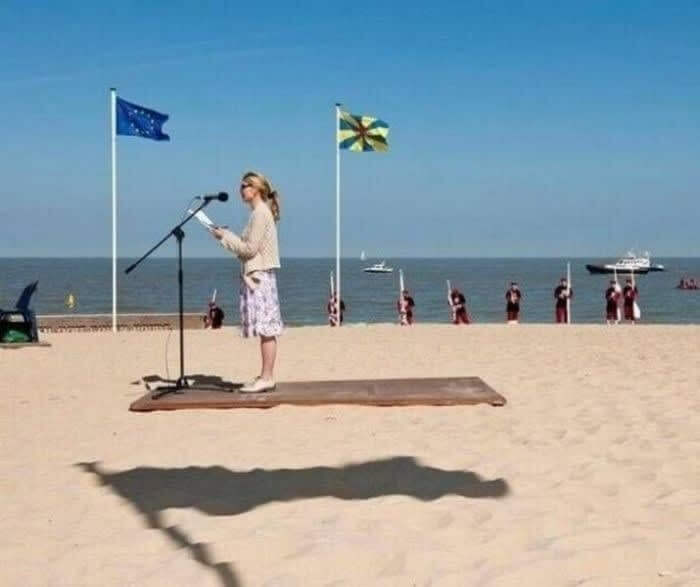 This photo really messes with your brain because the shadow of the flag looks like it is the shadow for that stage.
Extra Long Legs
This man must be at least seven feet tall with legs that long. How does he find pants that fit his inseam properly?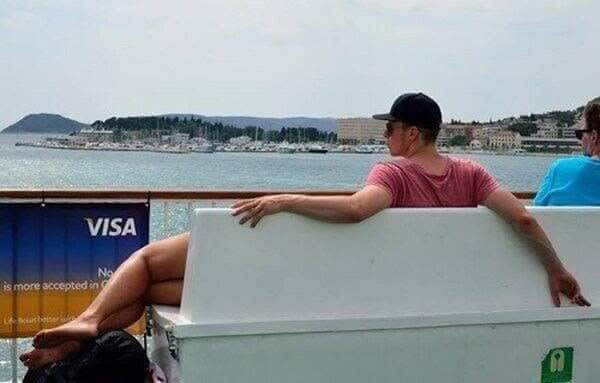 It must be difficult to do sit comfortably this bench because his long legs are hanging off.
Big Foot Baby
Wow, this baby has the biggest feet we have ever seen on a person that size. He must have started walking very early on.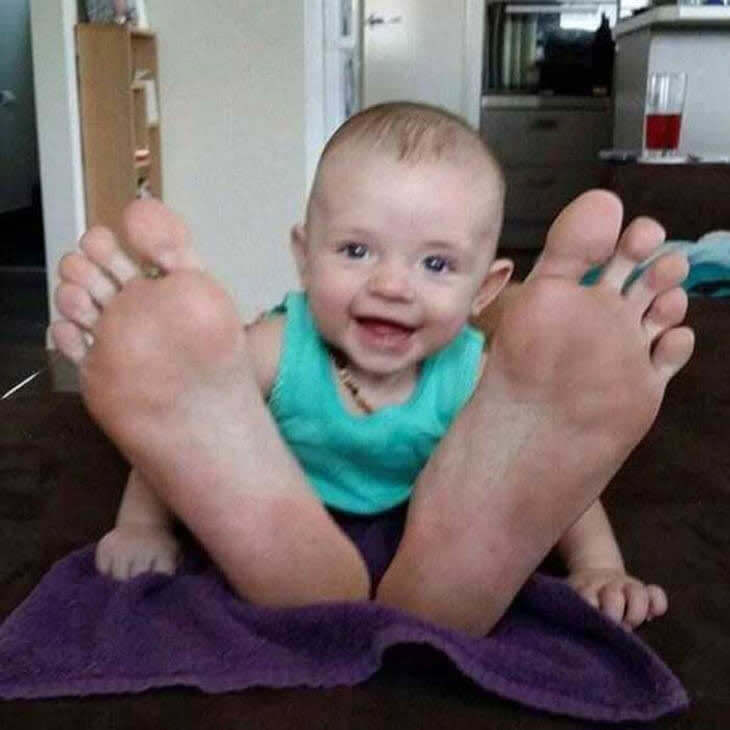 With feet those big, he could be a close relative of bigfoot. He is the answer to finally figure out if Bigfoot exists.
Fish Have Started Growing Human Arms
The fish have started to evolve, and they are growing arms to compete with other underwater animals.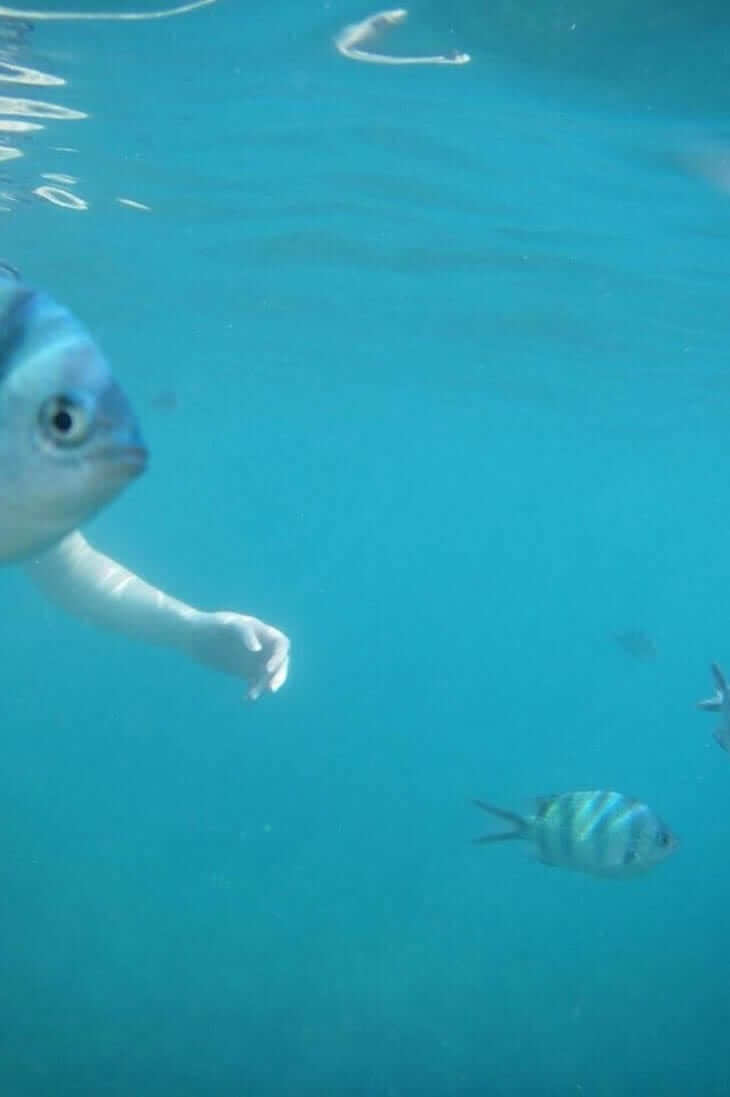 He is about to reach out and grab the other fish as prey.
Man-Dog
"Man-dog, man-dog, alone in a little world was a man-dog." Instead of Cat-Dog, we present man-dog.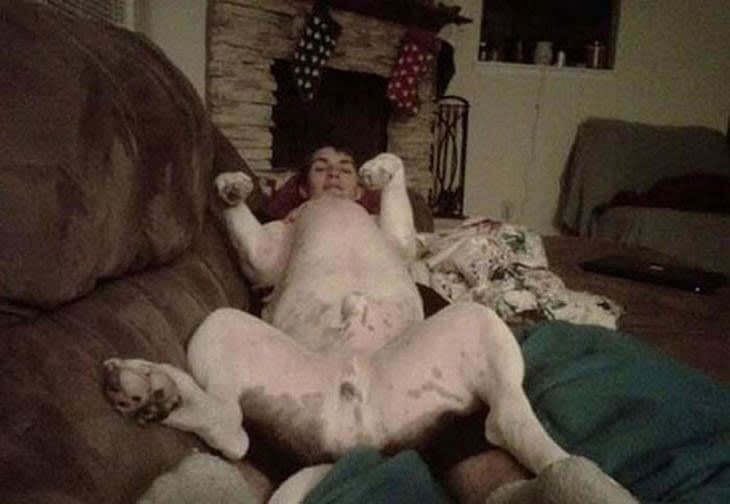 Here we have another dog who has kept his body and opted for a human head.
She has Really Long Arms
Call the Guinness Book of World Record's because this girl has the world's longest arms compared to her body length.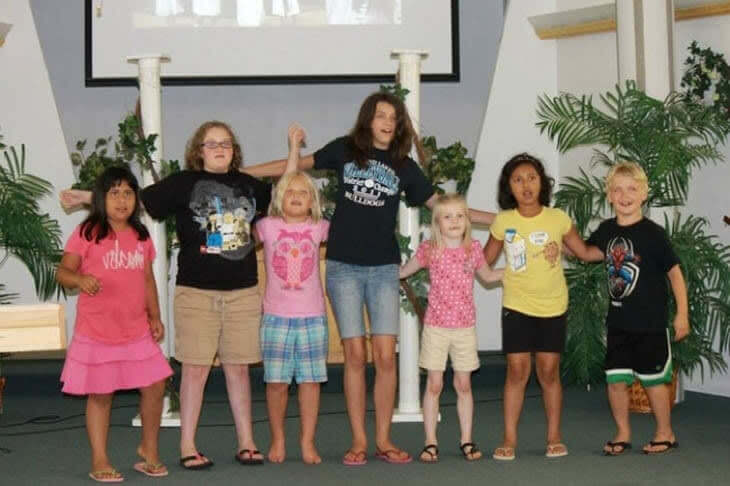 Her arms reach past three children on each side. Now that is impressive. In actuality, the girl in the middle is at the perfect angle to align with the other arms.
Big Man, Little Head
Instead of having the problem with t-rex arms, this person has a small head and a little body.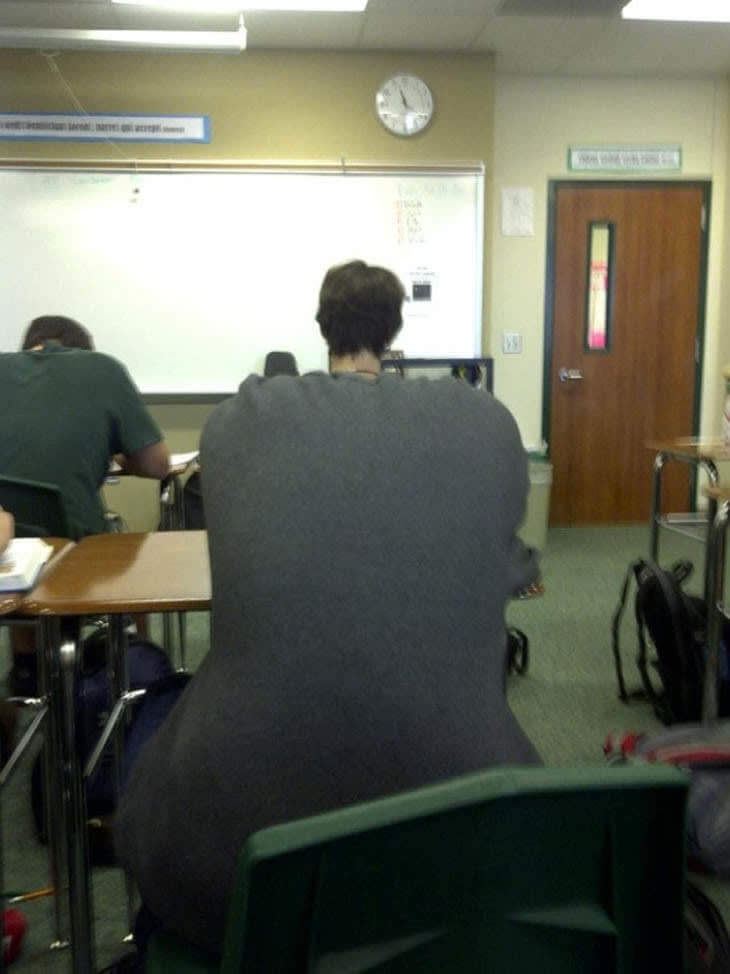 It must be hard for him to find hats that fit his tiny head, and shirts that are big enough for his body and small enough for his neck.
Dive In
They said Jesus could walk on water, but they never said he could lie down on top of the water.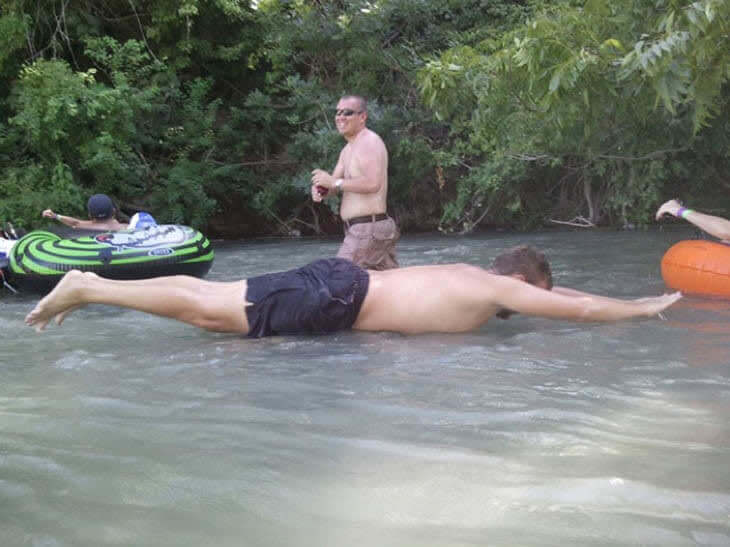 He is levitating above the water so gracefully. He must have sunk the second after this photo was taken.
She Must Be A Yoga Master
When the yoga instructor tells you to go into an upward facing dog, and there is that one girl in the class who is extra flexible and shows off.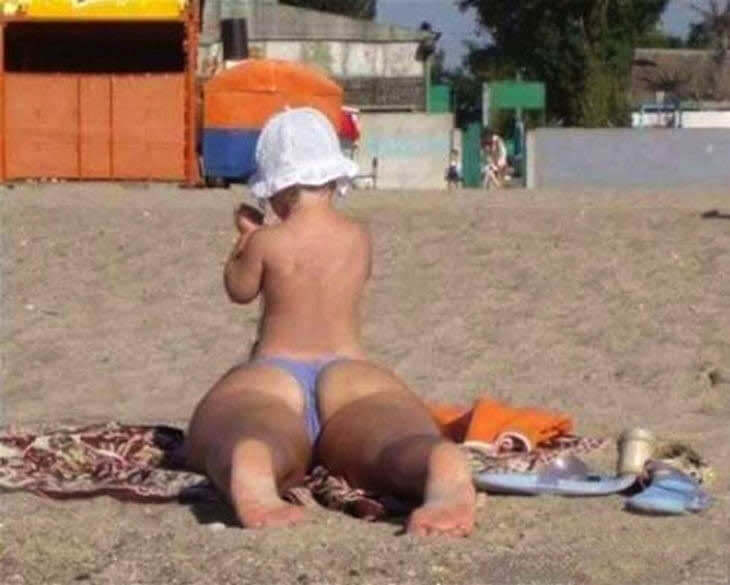 This woman must have an extra long torso to be able to sit like this, or her baby is sitting in front of her.
When Giant Seagull Attack
Regular sized birds can be very frightening, so giant birds would be even scarier. This man could be crushed by the bird in an instant.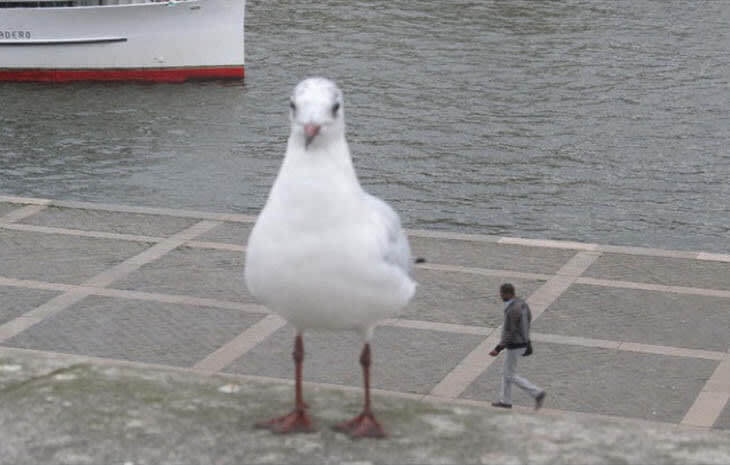 It is like the Alfred Hitchcock movie, The Birds​ has come to life, but all the birds are supersized. Now that would be a nightmare.
Twerk It!
This guy is twerking to some throwback hip-hop songs, and he doesn't care who is watching.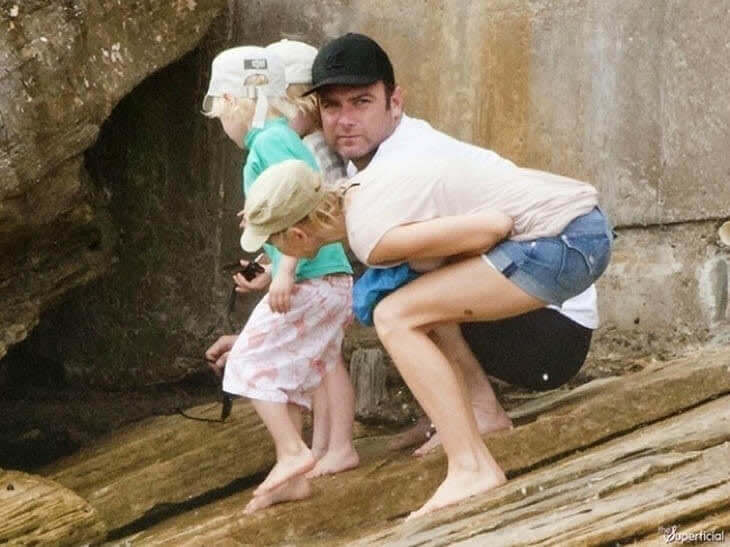 He might want to look the other way because there must be something more interesting considering everyone else is looking over there.
That's An Old Baby
Is that a baby with a grown man's head? This person may have Benjamin Button syndrome, but only his body is reverse aging.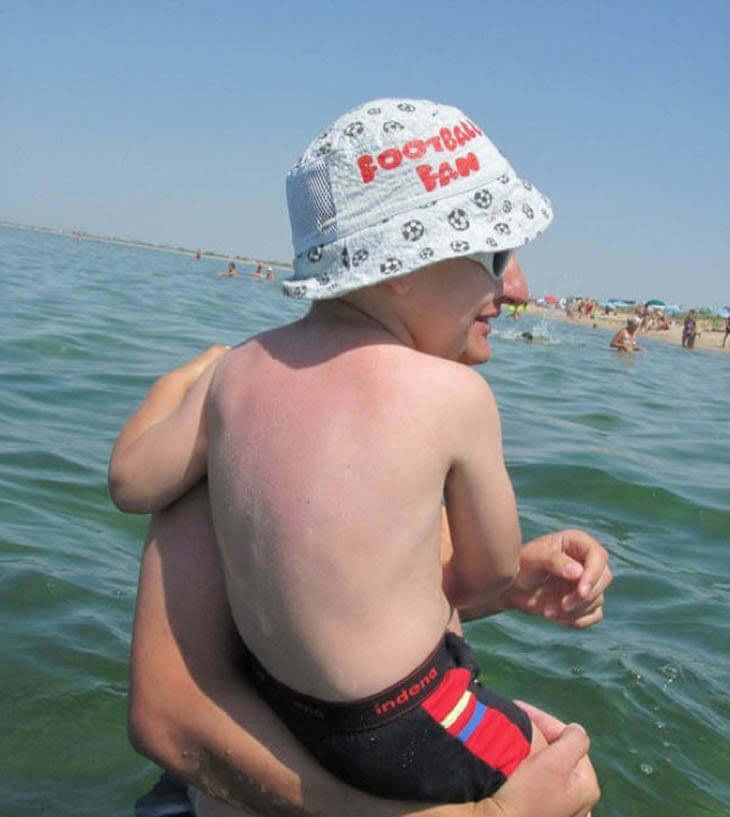 It is also possible that the baby's face lines up with his father's face at this angle to make him look like he has an adult head.
Who Is Being Lifted?
We can't tell if the woman on the right or in the middle is the person being lifted. Their outfits blend into each other, making it hard to distinguish.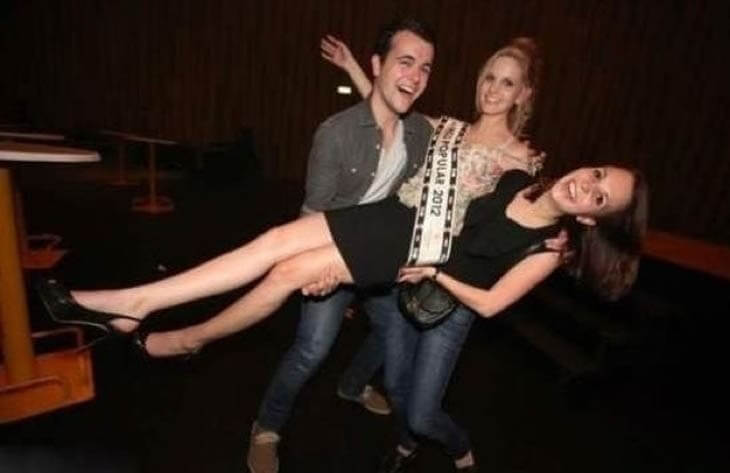 We think the woman in the middle is the one being held, while the woman on the right is just standing at a bizarre angle.
Googly Eyes
The perfect photo doesn't exi– oops, we were wrong. The reflection in his glasses makes it look like he is wearing cartoon eyes.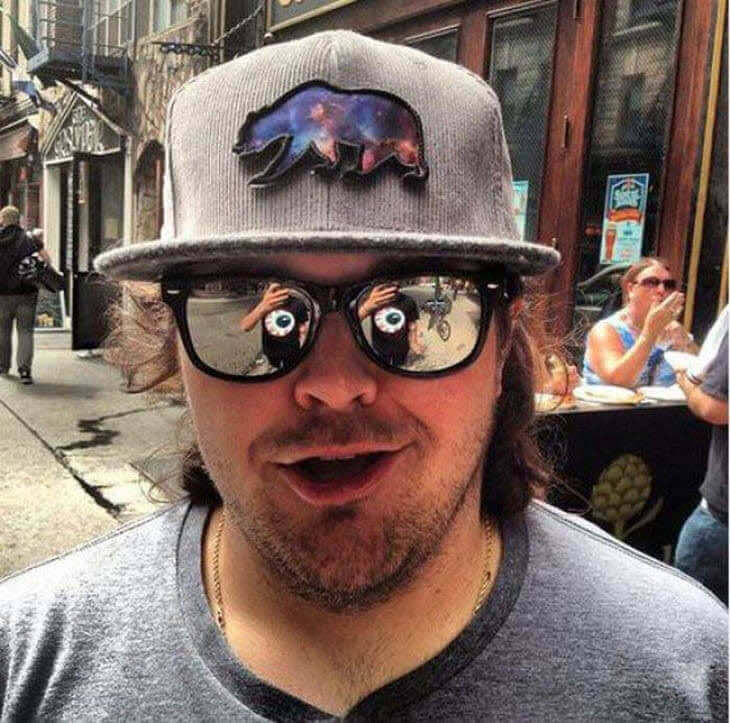 They definitely took this picture on purpose because there is no way this was accidental.
Twinning
It is such a coincidence that the gorilla was wearing the same outfit as that boy. Who wore it better?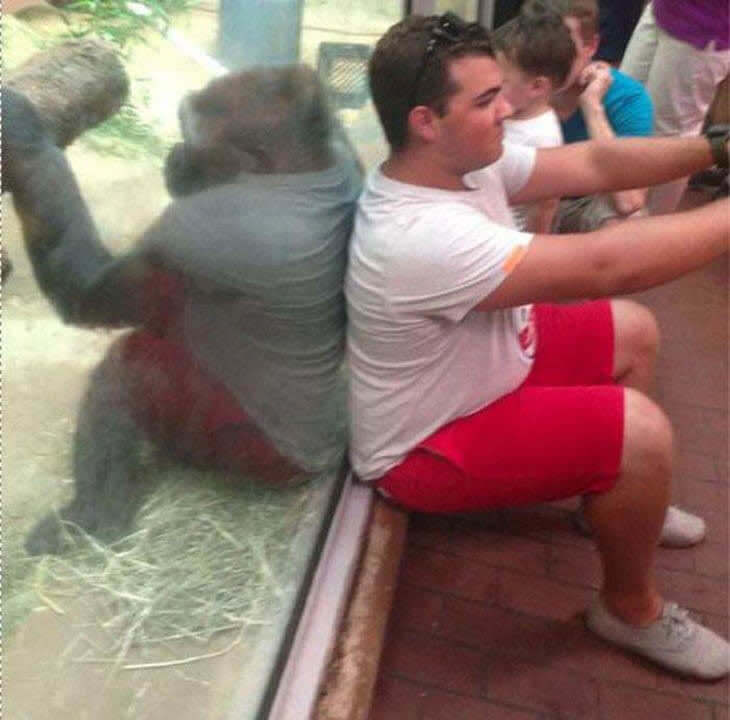 It is also perfect how the reflection of his clothes lines-up with the gorilla's body.
Dog-Woman
Dogs got sick of their owners, and they decided to put their heads on human bodies so they can take care of themselves.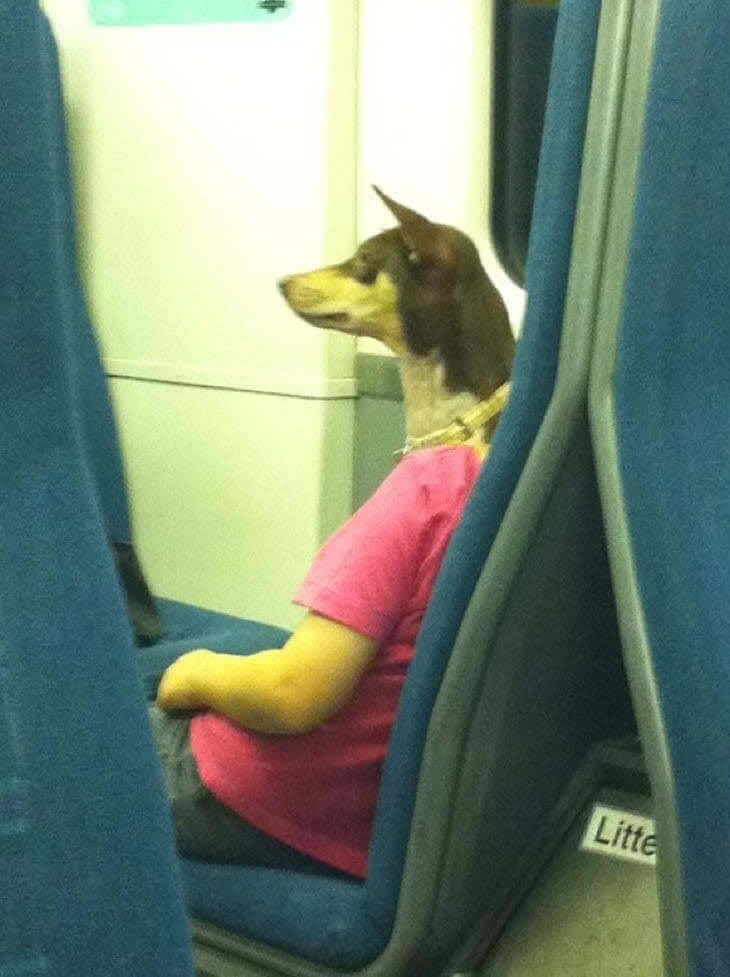 This dog decided to take the train to visit friends in different cities because he couldn't do that before he was half-human.
Foot Transplant
The doctors got her hand transplant mixed up and accidentally put a foot where her hand should have been.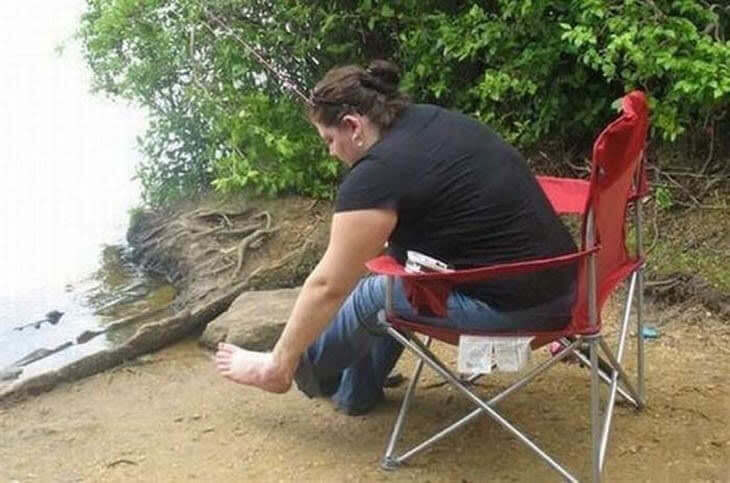 Her hand is at a strange angle that makes it seem like she has a foot hand, but it's just the way the photo was taken.
Honey, I Made The Kid A Giant
Remember the movie Honey, I Blew Up The Kid? Well, it seems like the dad scientist has made another mistake and made this child a giant.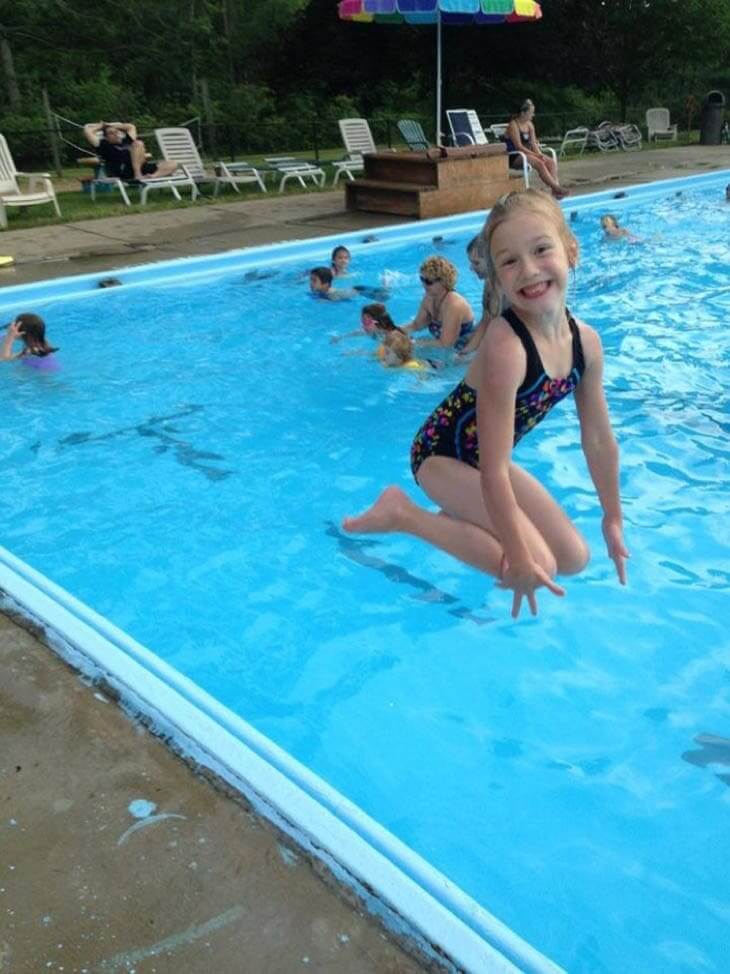 The perspective of this picture makes it seem like the girl has been turned into a giant and is about to sit on some innocent pool-goers.
Is She Holding A Photograph?
It might take your brain a minute to understand if the girl is holding a photograph or if the rocks make a square.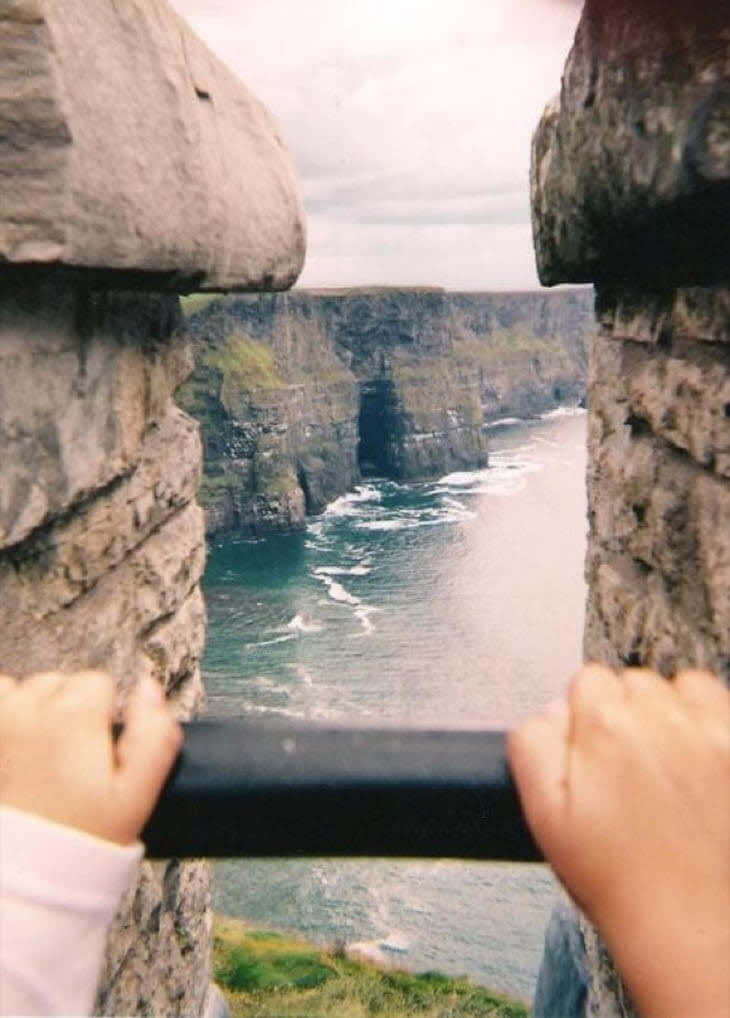 Once you figure this photo out, you will never be able to unsee it.
He Has A Fantastic Body
The man in the background must be hitting the gym often because his legs are incredible.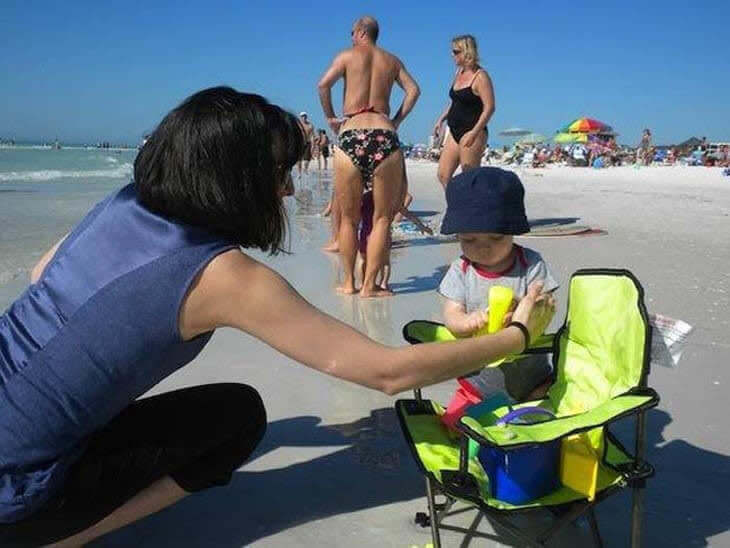 The family taking the picture must have blurred that out so they wouldn't have to see it every time they looked back on this photo.
Wow, Three Legs
This girl must be able to get places much faster than the average human because she has three legs. It must have been difficult to get used to that at first.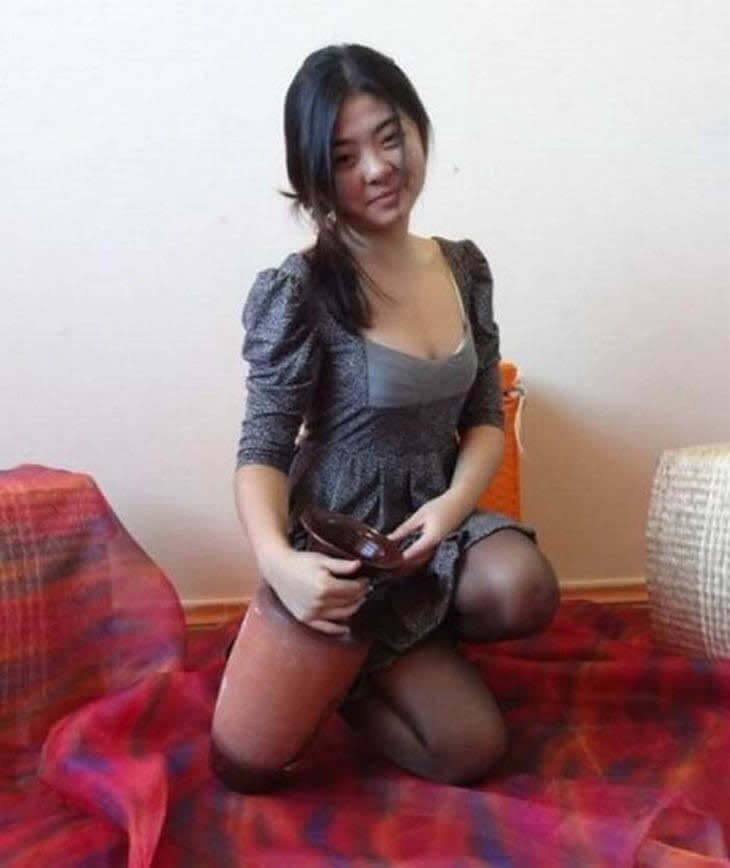 Oh wait, that third leg is a vase. We would have been more impressed with a third leg.
Mess With A Bull, You Get The Horns
She went to see the cows and the bulls, and she felt so connected to them that she grew a pair of horns.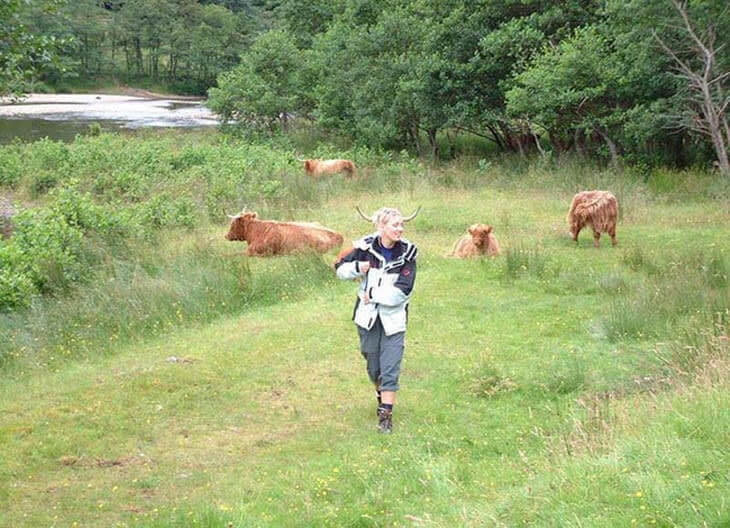 It is great that the photographer perfectly lined up her head with the bull behind her so she could have horns.
Put Some Clothes On
It is so rude when people go out in public and are not dressed appropriately. This woman should cover up her hairy chest.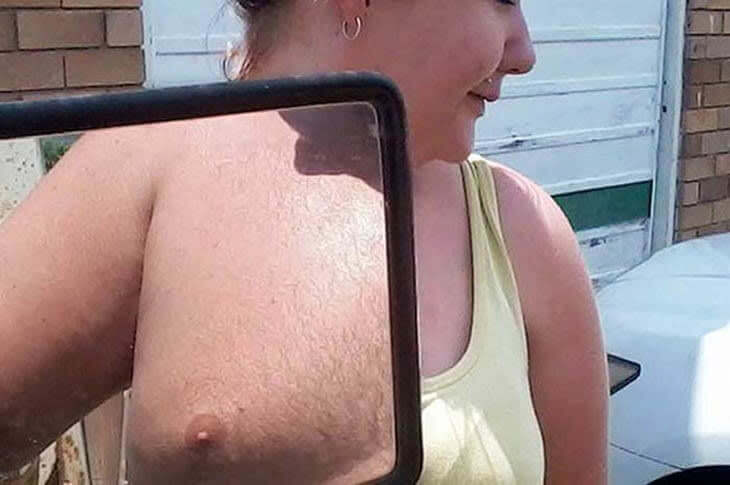 She should be more aware that there are people around who don't want to see her hairy chest.
Outfit Swap
This looks like the couple decided to swap outfits for this picture. If that were the case, they both look great in each other's outfits.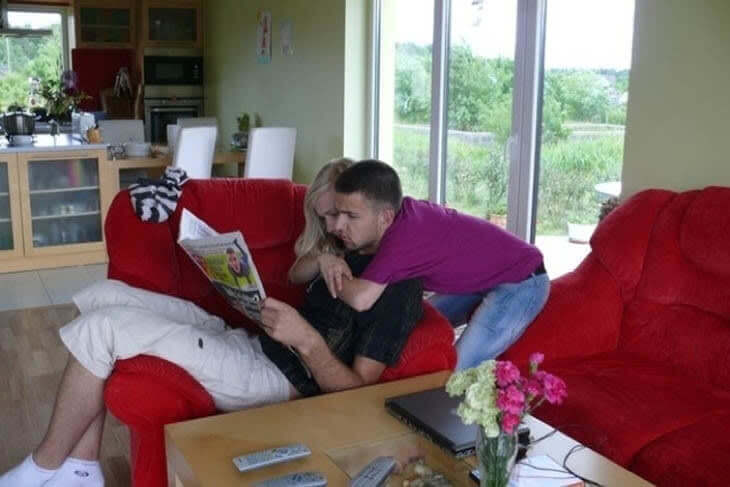 These people are getting the perfect angles to achieve these body swap photos.
How Many Legs Does She Have?
It is not lady-like to sit with your legs spread open. You should never try to show your underwear.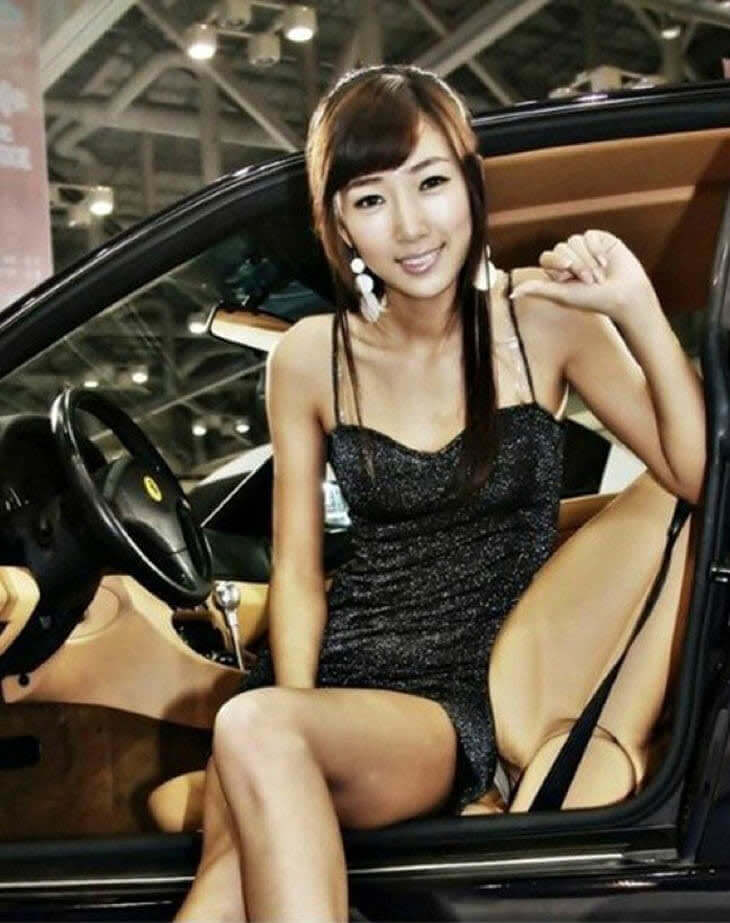 The seat blends in perfectly with her skin tone to look like a third leg when, in reality, they are crossed to the side.
His Face Was Erased
Someone was in the middle of making an avatar and didn't like the face so they erased it to start over again.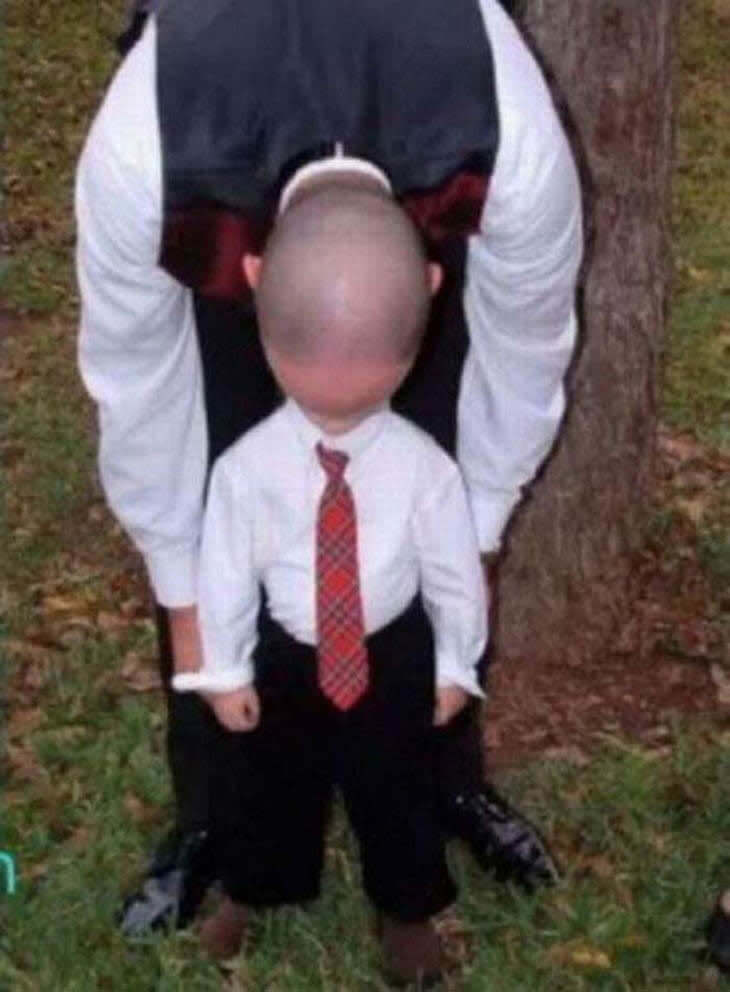 The hairline gives it away, but if this man were fully bald, it would have looked like a blank face.
Something Is Off With His Arm
This looks like someone edited his arm and accidentally made it too long and too skinny.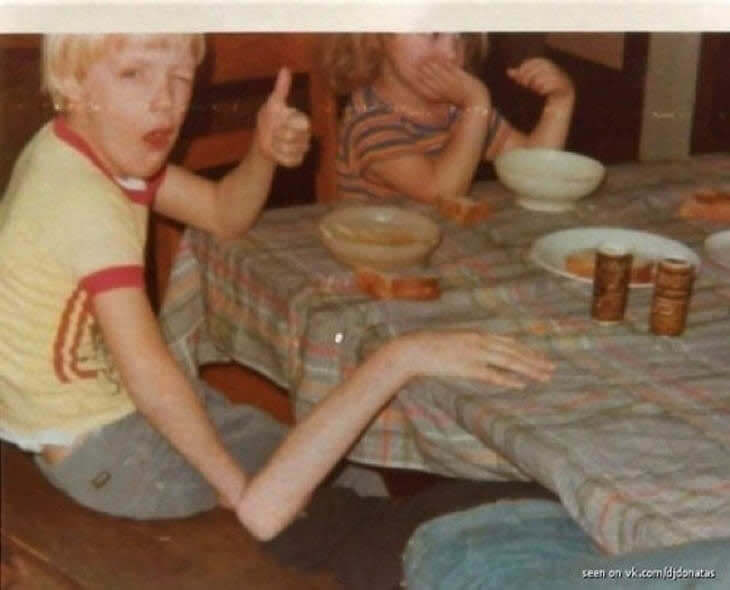 If you look closely you can see that the hand and forearm belong to the person lying under the table.
Uh Oh, That's Embarrassing
Do you think their friend knows that she was caught on camera with her butt exposed? She was probably embarrassed to see this picture.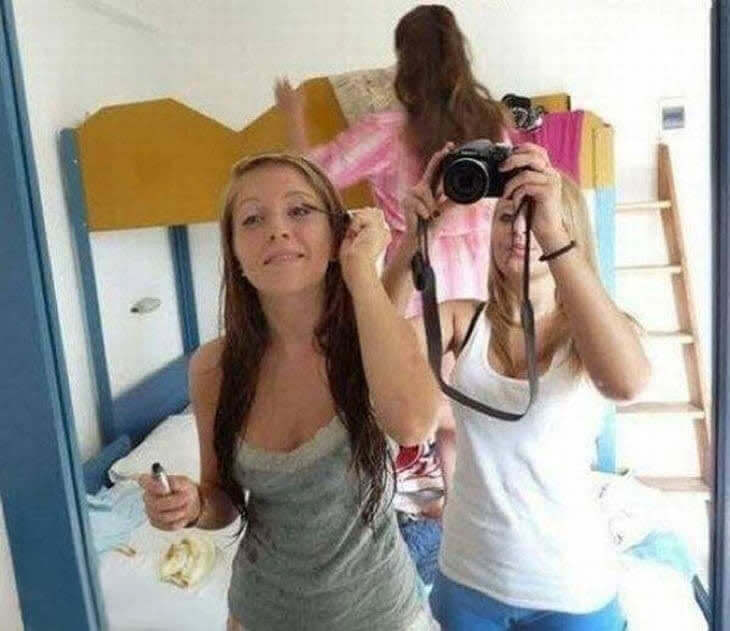 She was probably also confused because she was wearing pants. It turns out her friend's armpit could pass for a butt.
His Arm Changes Colors
In this photo, it looks like his hand is holding her shoulder, but his arm seems the change color at the elbow. It is very confusing to the eyes.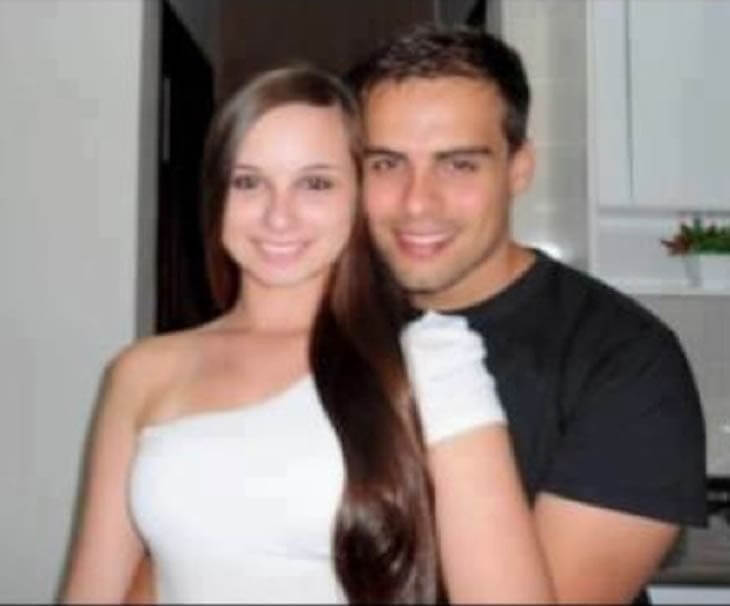 We are going to assume both their hands are out of the picture because the arm with the white sleeve belongs to the girl.
"Is Anyone In There?"
This looks like one of those cartoons when a person takes the head off a robot to look inside of it.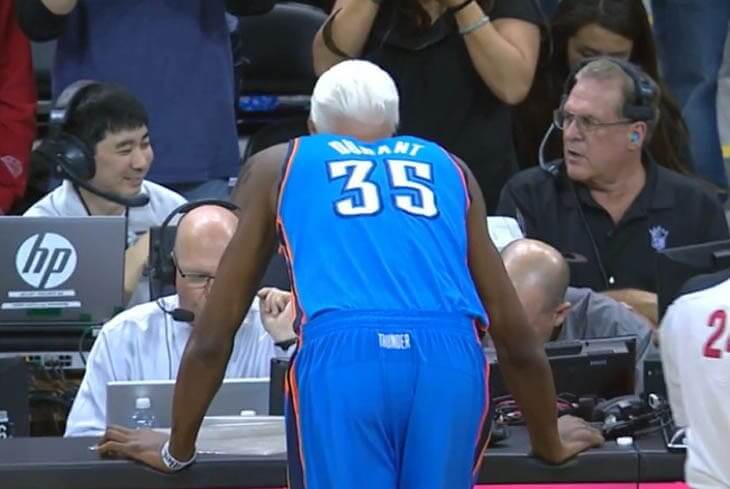 Maybe he is checking to see that all his mechanics are working so he can continue playing.
Is She Naked?
Oh no! Someone should have told her it was a formal even and clothes are required. She must have been so embarrassed.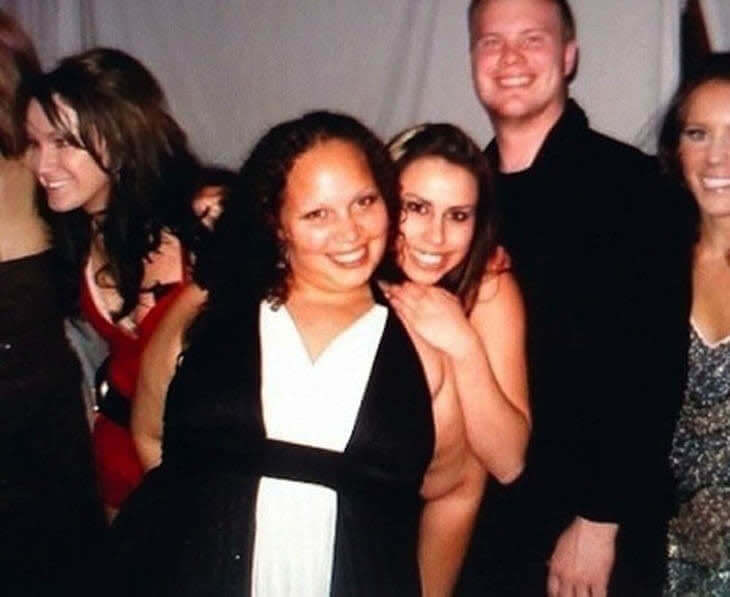 Ok, so maybe she isn't naked, cause more people would have been staring. The woman standing in front of her has her arm out so it looks like she is naked.
Sir, You Might Want To Cover Up
"Grandpa, I thought we talked about this, you can't expose yourself like that to people. It is very inappropriate."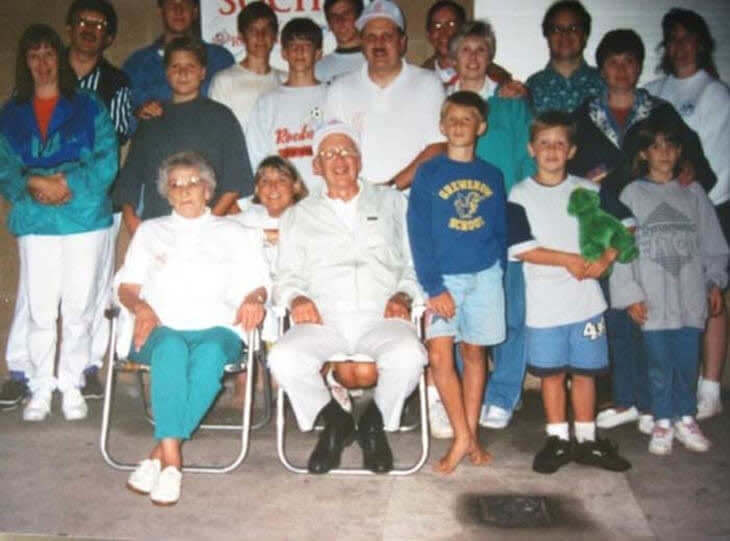 They must have had a funny reaction after seeing how the photo turned out. Hopefully, there was a retake.
He Must Be A Vampire
The only person who could have no reflection is a vampire. It is a known fact that vampires do not show up in mirrors, much like this man.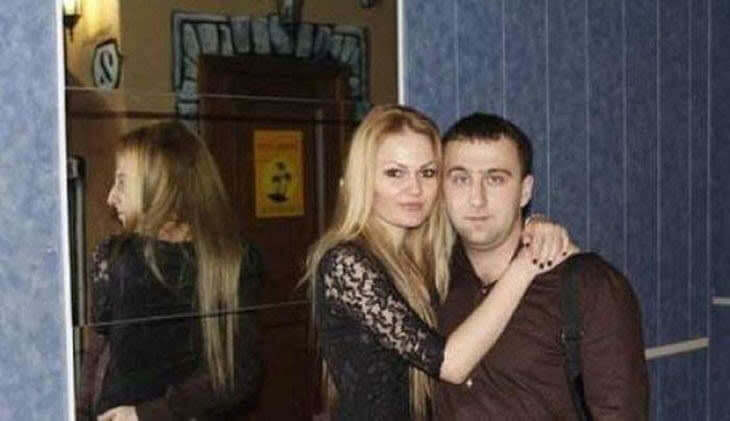 Somehow she was able to block him in the mirror entirely so his reflection wouldn't show up.
Horse-ception
This horse has a smaller horse inside it that controls it like a robot. That is the only obvious explanation.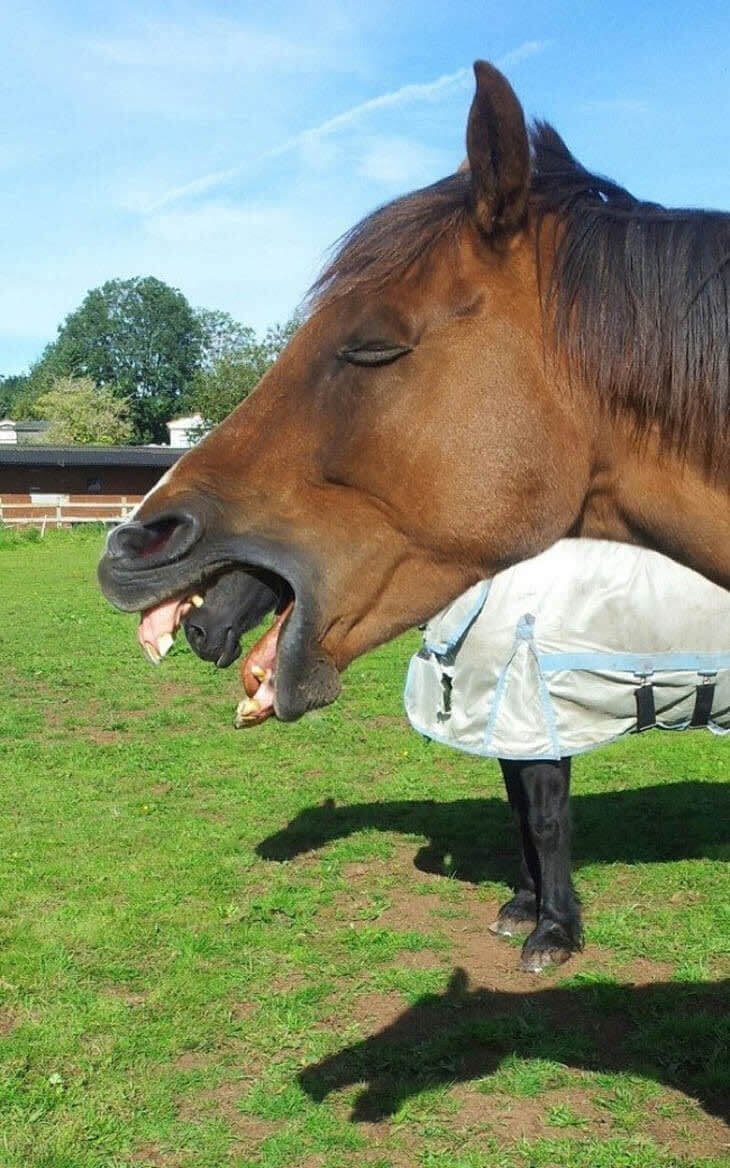 If you couldn't see the body of the black horse, this would have been a believable photo of horse-ception.
One Head, Two Bodies
This photo really makes you wonder what happened to the other woman's head. It seems to have completely disappeared.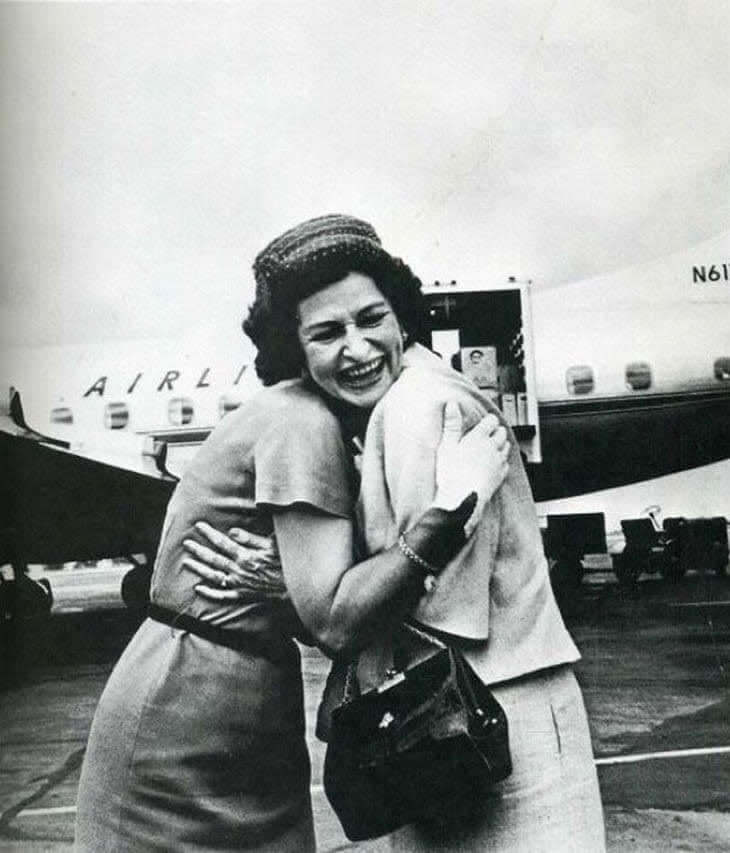 It seems like the woman in the white has taken over the second body to have one head and two bodies.
Free Piggy Back Rides
The man in the back looks like he joined in on their family photo for a piggyback ride. His legs must be tired from sitting on the boat all day.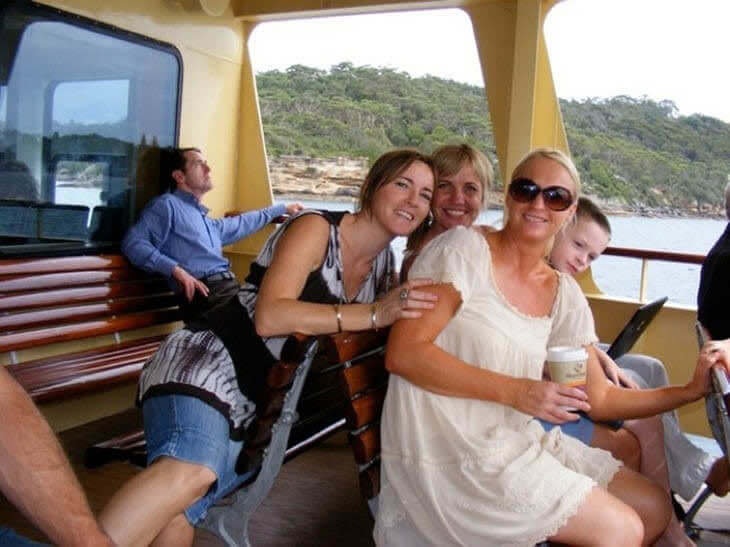 Do you think the family knows this man and he posed for the photo like this, or were they just as confused as us?
Who's Carrying Who?
She must be really strong to be able to carry this man unless he is very light. She also is sporting an interesting choice of shoes and pants.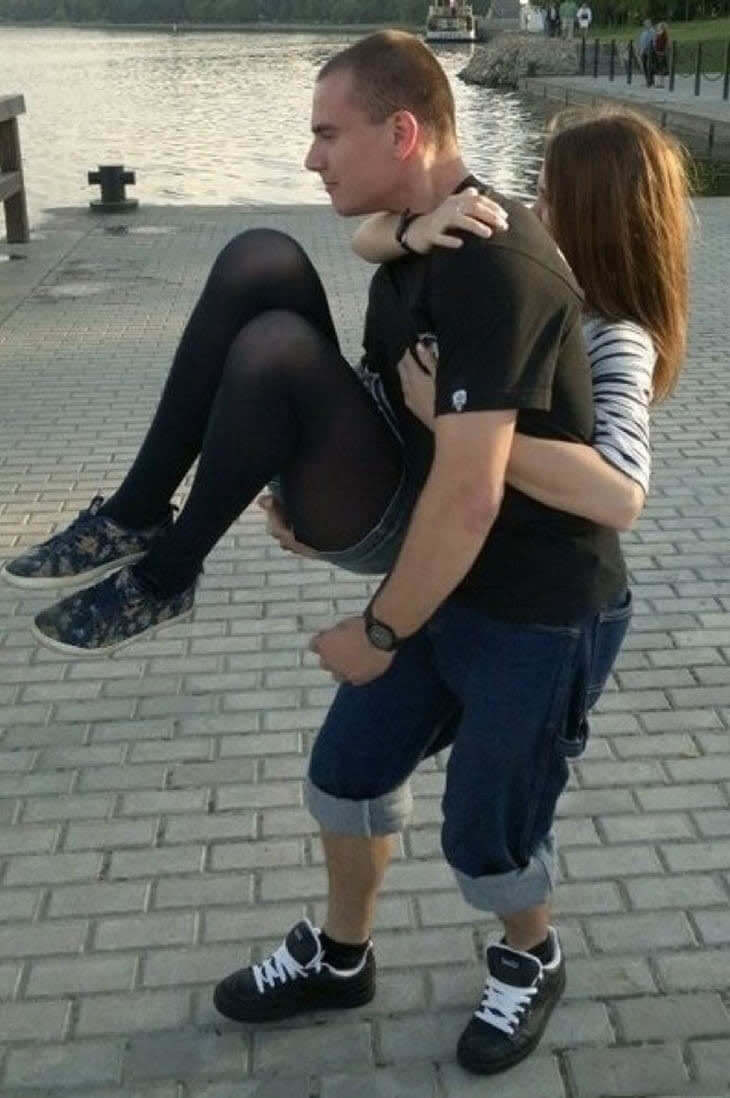 In reality, he is carrying her, but it is still a strange way to carry a person. Who picks a person up like that with one arm?
Her Legs Disappeared
She must be a ghost because her legs magically vanished. Is she wearing Harry Potter's invisibility cloak?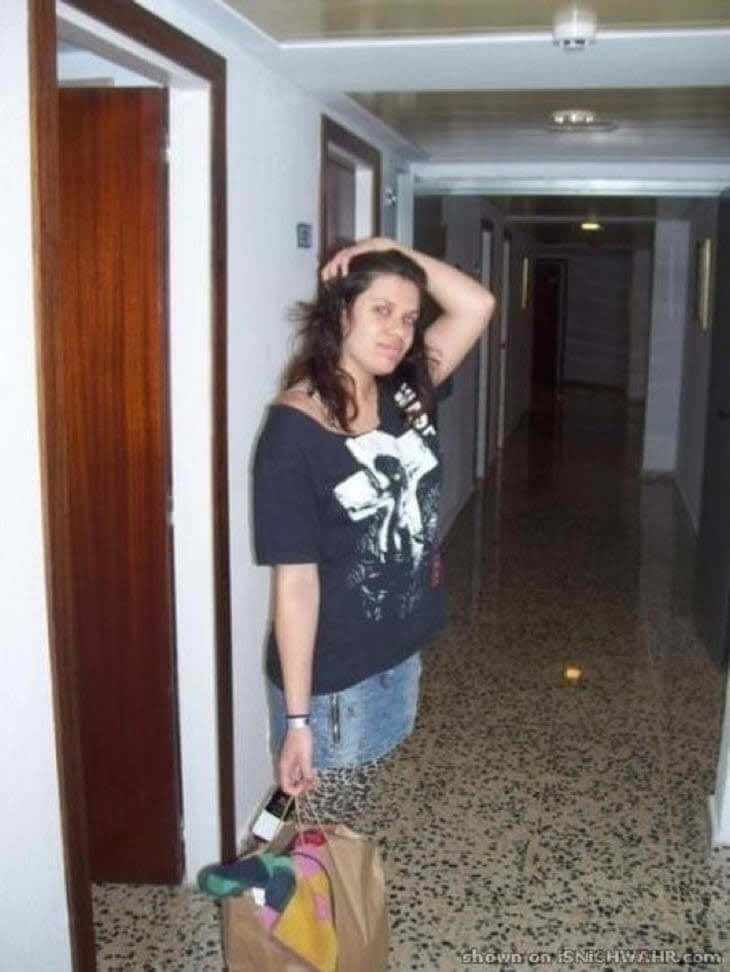 We don't know how she got her hands on the only invisibility cloak in the world, but she could have used it for something more exciting.
How Does Her Body Twist Like That?
Is her head detached from her body? Is she one of Frankenstein's creations that is malfunctioning?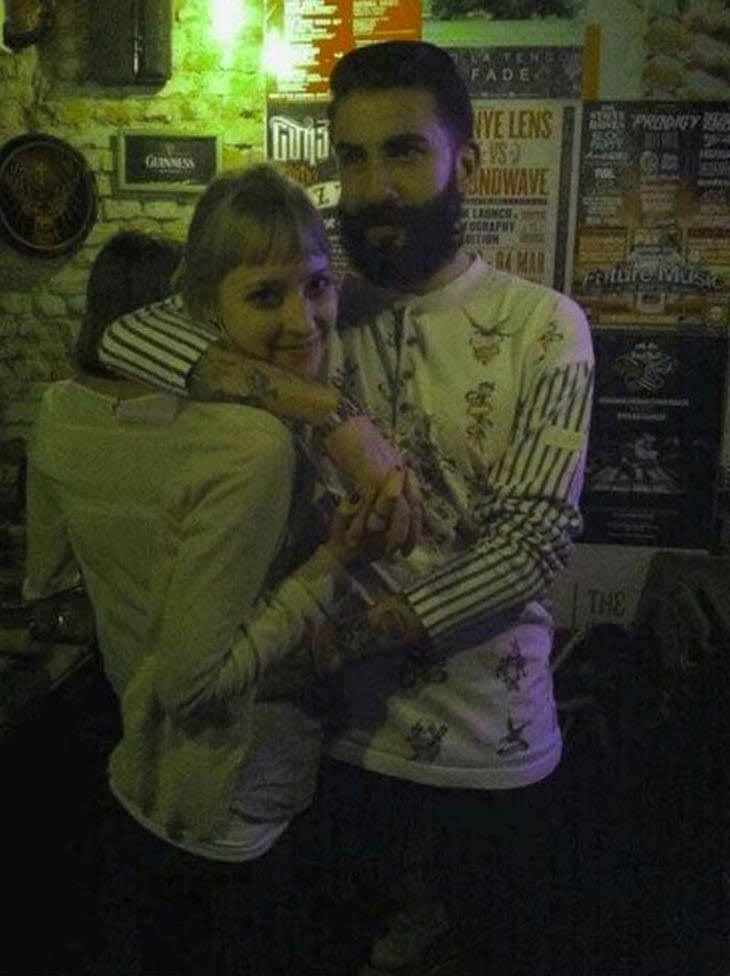 In this lighting, her sweater blends in with the woman's shirt behind her, and it looks like her body is detached.
Like Cat-Dog Without The Cat
Remember Cat-dog? Well, this is cat-dog without the cat, so we guess it would be called dog-dog.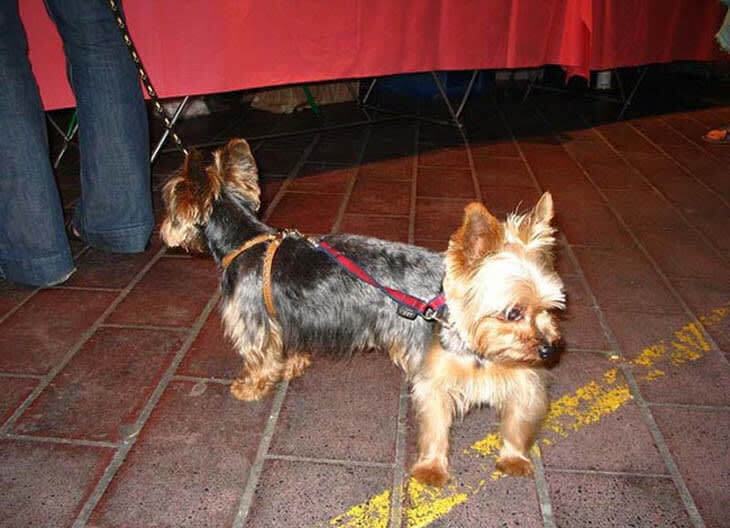 We don't know how this happened, but the owners must have been surprised when they got a two-headed Yorkie.
These Signs Are Simply Too Genius To Ignore
This article was originally published on 
TheFunPost
The primary purpose of a sign is to offer information to the person reading it. Whether it's a speed limit on the side of the highway, a tantalizing offer for a fast-food restaurant, or a warning about a menacing dog in the vicinity, signs are useful and often essential. However, while they might be there to provide information, there's no reason why signs can't also be amusing. Hilarious, even. Check out these clever signs that do their job because they are just too hilarious to ignore!
Tombstones By People Whose Sense Of Humor Will Live On For Eternity
This article was originally published on 
Kueez
Some people's last words stick with us for life, and while memories may fade, some things are set in stone. Our tombstones are our last chance to leave a mark on the world, and while some people choose meaningful sayings that sum up their lives, other people aim to entertain those who drop by for a visit. From dad jokes and puns to warnings about the afterlife, these hilarious and funny tombstone quotes help us realize that death doesn't always have to be surrounded by sadness. So take a moment to laugh at these people's hysterical eternal words written in these funny tombstone memes.
Life, and death, are as serious as you choose to make it sometimes. These people chose to make even their darkest hour into something quite comical with these funny tombstones. After all, why not leave behind a legacy of laughter and make people who are still living on earth smile a bit?
Enjoyed this post? Why not share it!
40+ Gym Fails That Had Us Dropping Our Weights From Laughter
This article was originally published on 

Kueez

Sometimes it seems like it doesn't matter which gym you're in, there's always the same kind of people. There are those who are new and have no idea what they're doing, the one guy grunting in front of the mirror clearly making everyone uncomfortable, the girl who's just there to take selfies, and many, many more. Sometimes it gets a little awkward, but hopefully nothing nearly as bad as the photos that you're about to see here.
1. The "I Realized My Mistake" Face
We have to give credit to this woman for not making the "I know it all" face. She tried to swing from the ceiling and her mortifying expression tells that she did not do as instructed.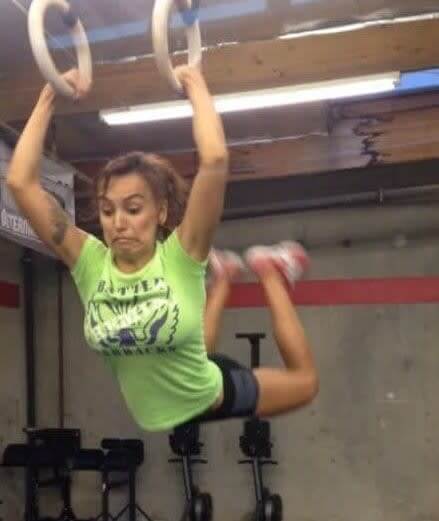 We just hope that she didn't injure herself. And why on Earth didn't the person behind the camera rush to help her?
2. Nothing New Here
Every year, we make a New Year's resolution to get in shape and we become a member of a local gym. But every time we end up falling off the wagon, so we end up making another New Year's resolution and the cycle keeps going on and on.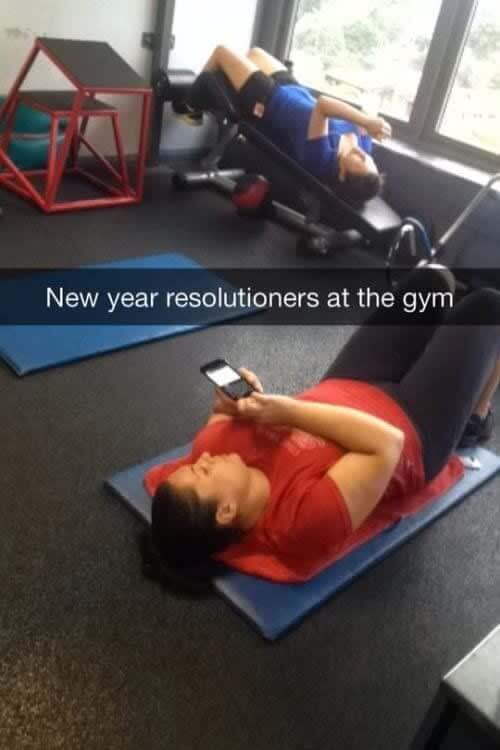 It seems like we like to waste our money. These two people also wanted to get in shape. But like most of the New Year's resolution crew, they will most likely disappear midway through January.
3. Not A Purr-fect Leotard
So, there is a misconception that physically fit people can easily pull off wearing almost anything. But after looking at this one, we are sure many will change their opinion about it.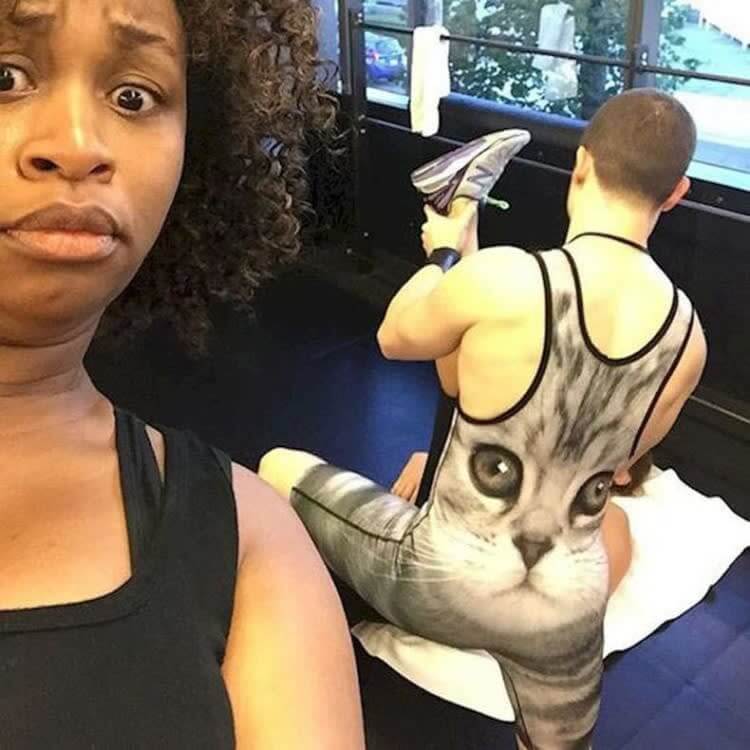 This is one questionable leotard that doesn't look good on him. Or it would be best to say that it doesn't look purr-fect on him. We fully support wearing anything in life, but there are some things that you shouldn't wear to a gym and this leotard is certainly one of them.
4. Height Issues Everywhere
Tall people often face issues almost everywhere they go. For instance, they find it difficult to sit in a car or plane. When it comes to the gym, it is quite hard for it to suit all types of people because they vary in size and shape.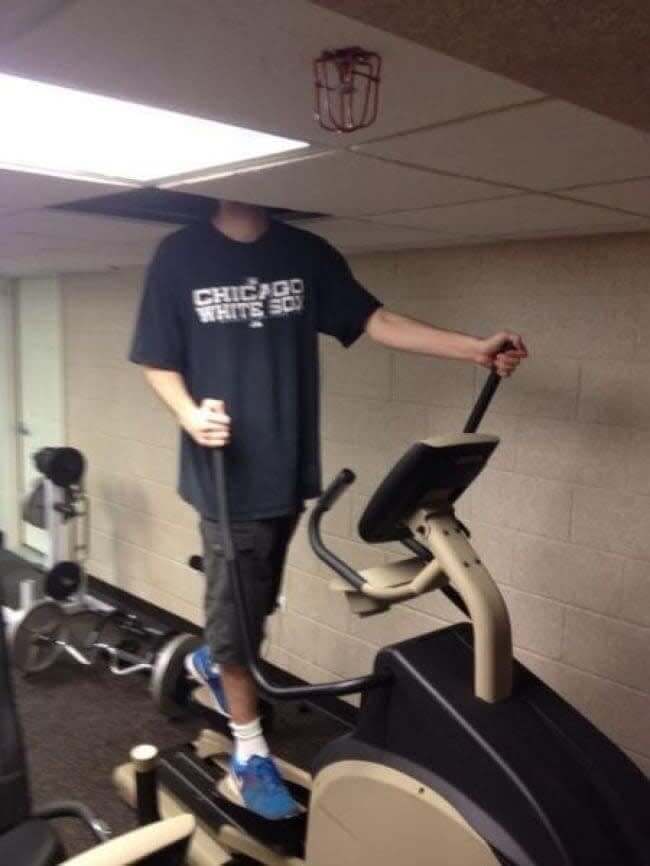 This guy signed up for his local Chicago based gym as he thought the membership deal was amazing. But there was one problem: he forgot to check if the gym was capable of accommodating someone his height.
5. A Little Gym Session Before Catwalk
We think that this girl was heading to a fashion show, but decided to spend some time in the gym. After all, some people feel more relaxed in the gym. Or maybe she is super dedicated to staying in shape that just tries to spend time in the gym whenever possible.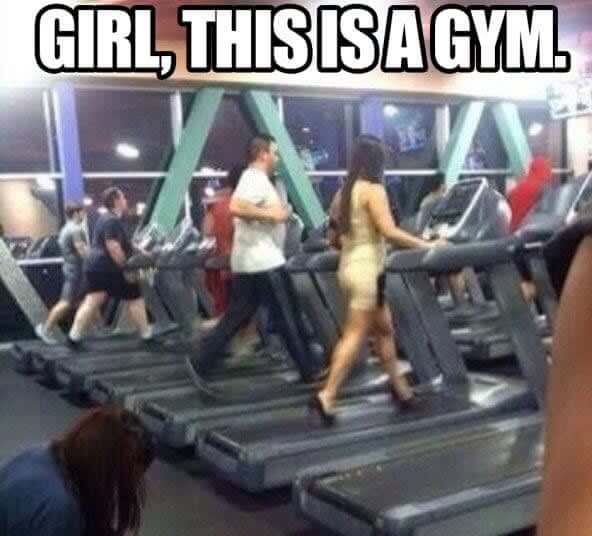 That still doesn't make her dress ideal for workouts or even walking on the treadmill. It is dangerous to attempt any physical exercise while wearing thin heels.
6. Once A Sleepyhead, Always A Sleepyhead
All we can hope here is that this picture was taken after an exhausting workout session and not after waking up early just to make it to the gym.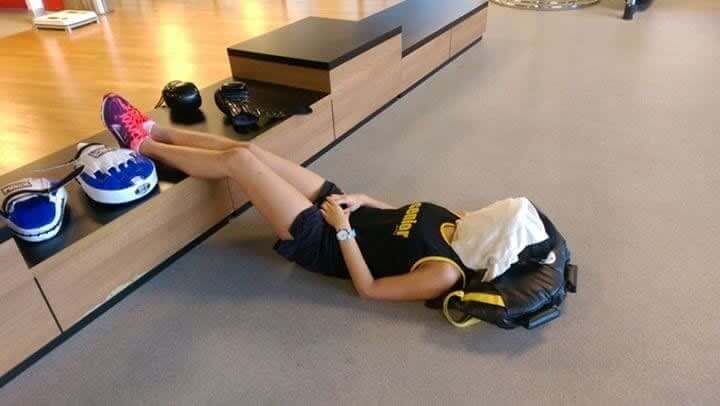 There are early birds at the gym because they don't want to be there when it becomes overcrowded with people. We hope that a couple of shots of espressos might help her.
7. Secret To Living a Healthy Life
People who don't know this woman may think that she is not in the right place. But those who attend this small town gym understand that this is a perfect place for her.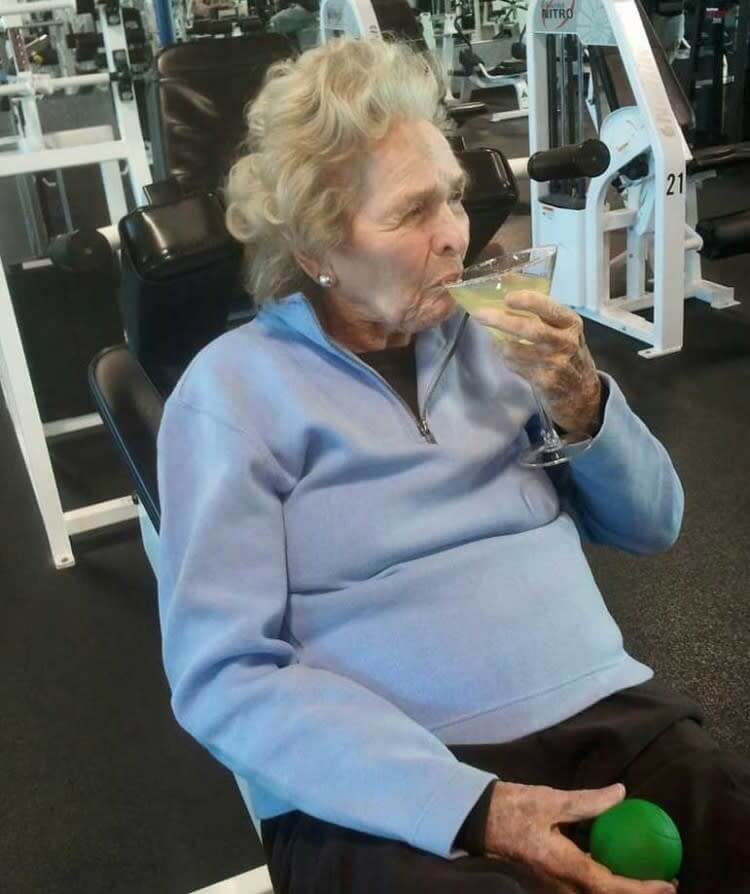 She doesn't want to move into a retirement home and this is how she joins her friends' weekly bingo gatherings. We have to admit that she's having more fun than in this moment than most of us have in a year.
8. Winter Is Coming
We know people that spend a lot of time in the gym. For some people, the gym is their way of life and there's nothing wrong with it.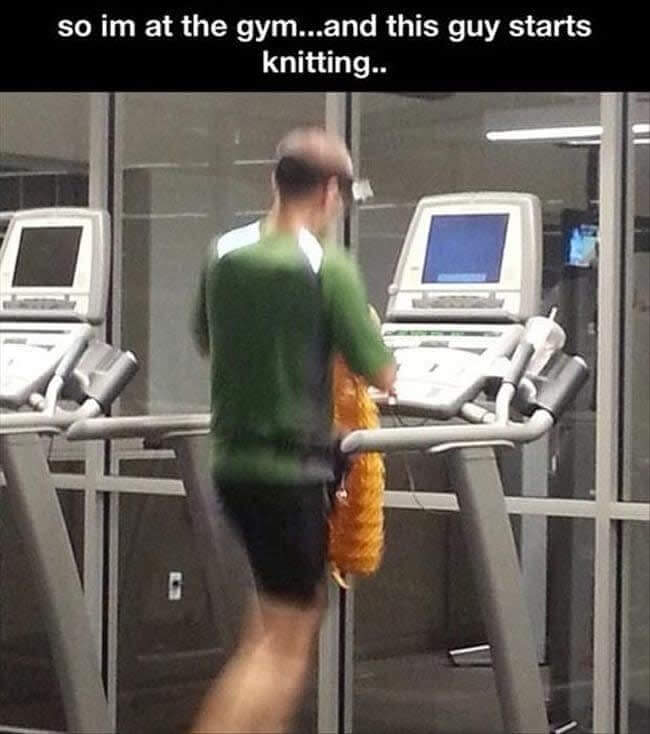 This guy seems to spend so much time in the gym that he doesn't have time to do other work, such as knitting. So, he is making other people jealous by knitting a scarf while walking on the treadmill.
9. A Committed Athlete
This man is on a stationary bike, but we have to respect his level of dedication. He is not shy to take extreme safety measures even though they seem a little redundant.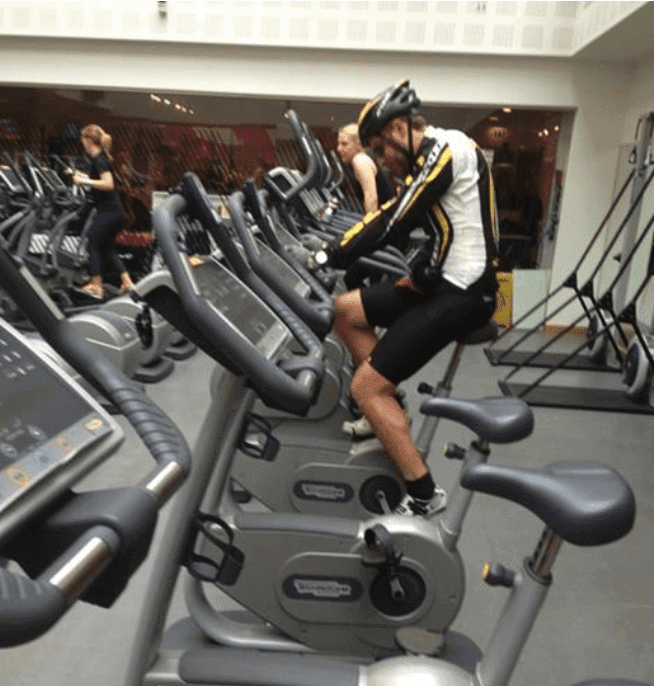 There is a possibility that someone stole his bike and now he comes to the gym for indoor training.
10. Batman Needs Gym As Well
During this time of COVID-19 when everyone is trying to stay inside, Batman also didn't go out much and it seems like he gained a bit of weight.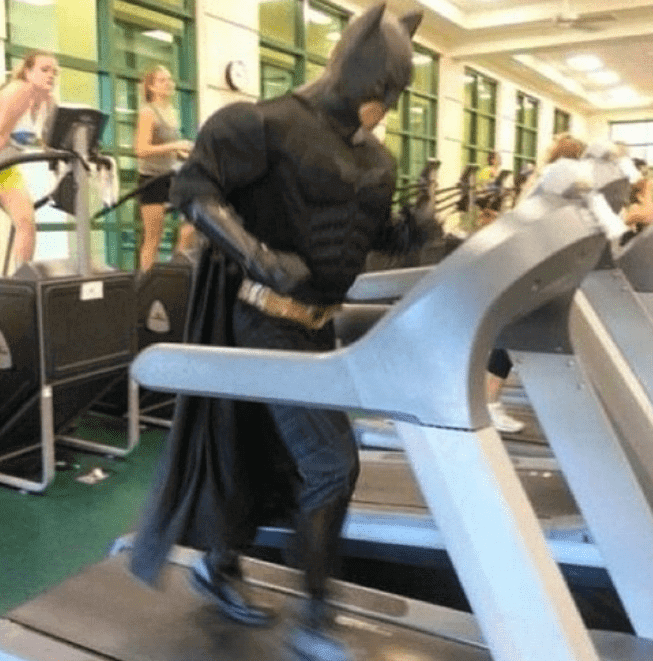 So, now he is trying to lose his weight. Seeing Batman run in the gym can give some motivation to his fans who were thinking about joining the gym next week or next month.
11. No Pain, No Gain
Once you start going to the gym, you notice that you don't look your best sometimes and it is perfectly okay. Most people don't look perfect when they are lifting or running.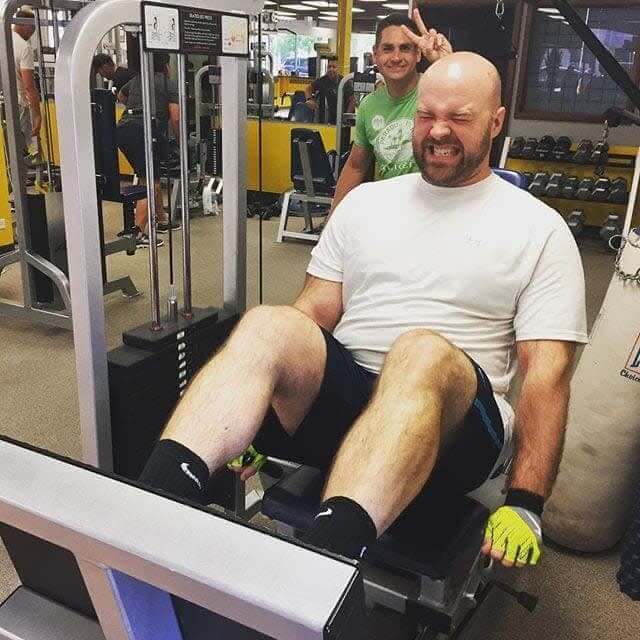 This guy just wanted to show that, before you start making fun of his friend's face, do keep in mind that you look the same. Just a reminder that most of us don't look like Instagram models when working out.
12. Perfect Plank Doesn't Exis…
Did you know that George Hood holds the plank record of eight hours, 15 minutes and 15 seconds? Anyone who has ever done a plank can tell you that doing it for just a minute seems like an eternity.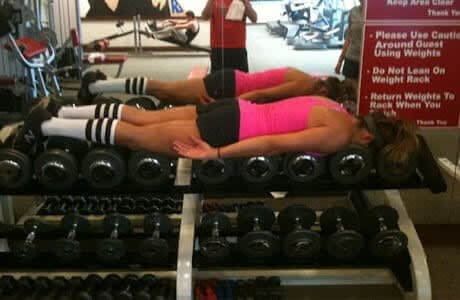 This lady also wanted to do a plank at the gym and make a world record. However, her focus was on preserving as much calories as she can. So, this is how she does planks. There is a possibility that she just went there to get the weights and simply gave up. We feel a little sorry for her.
13. A Supportive Relationship
When motivational quotes and music can't make you strive hard to achieve your goals, there is one last trick that can prove to be a masterstroke. Yeah, just ask your girlfriend to come and support you.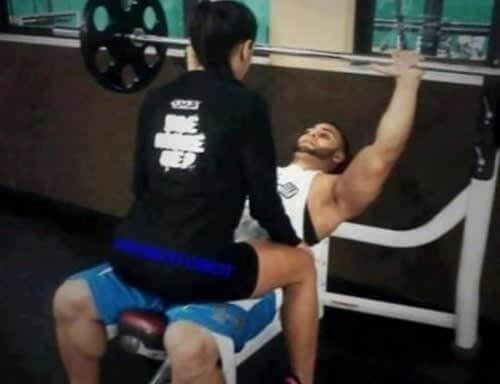 It is because some people's physical training relies on words of wisdom, but then there are people who want their lover to be beside them. It seems clear that this couple doesn't mind the attention, but we are not sure if others can get motivated by looking at them.
14. Twins At The Gym
Okay, so it was already confusing enough that these twins are identical and they have made it almost impossible to focus on our routine by wearing the same gym clothes. Is it this way with most twins that they like to confuse people?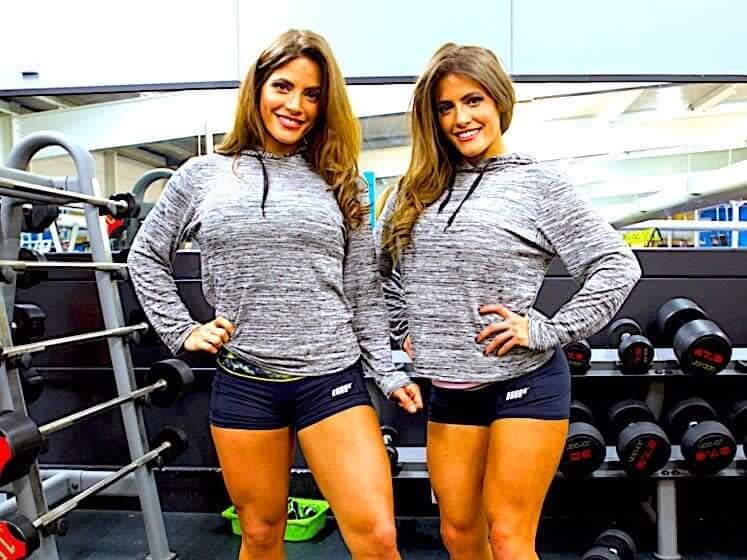 They also happen to have annoyingly similar names. The one on the right is Jina and the one on the left is Gina. Or is it the other way around? We have no clue and we're not going to waste time memorizing who is who.
15. A Health Conscious Doggo
As you saw photos of people using gym equipment the wrong way, this is probably the only photo where you can find nothing wrong at all. The doggo is trying to copy his daddy and just look at those eyes, they can melt anyone's heart.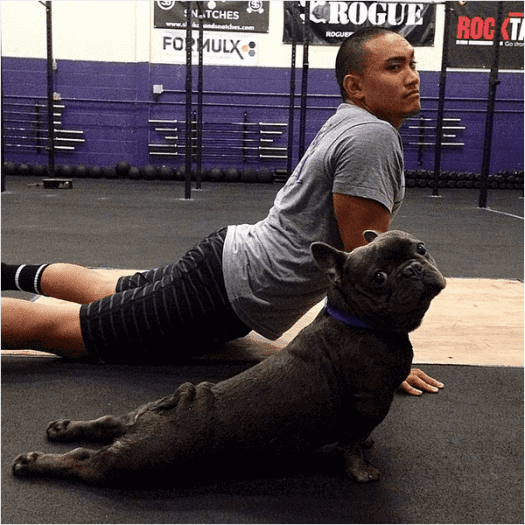 The doggo is like "we want to work out so can you take your stupid face somewhere else." By the way, this dog's yoga position is quite precise.
16. Different Goals, Different Motivations
If you want to become the strongest man in the world, you can't achieve the goal by just eating 3,500 calories per day. But this is a whole new type of motivation in which a person wants to go up a weight class and is eating a giant piece of chocolate cake.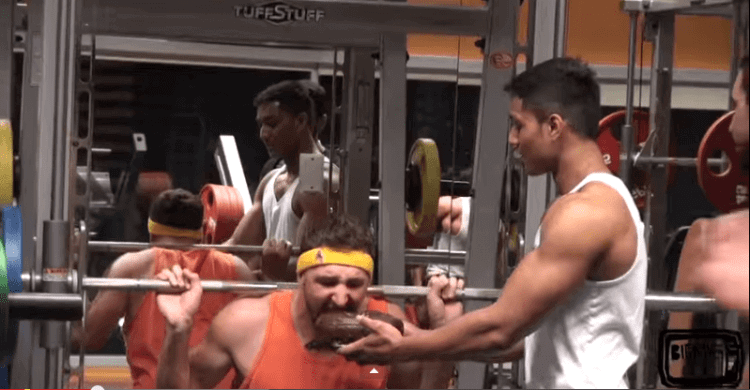 Something else happening here is how easily he is eating such a delicious treat in front of those people who are most likely trying to lose weight. It's like eating an apple in front of a person with no teeth. It's cruel and just makes no sense.
17. Not Using The Blur Feature The Right Way
Now that smartphones are getting more advanced, they come with a lot of new features. Still, it is up to the user to ensure they use the feature the right way. This lady wanted to be the center of attention of her photos.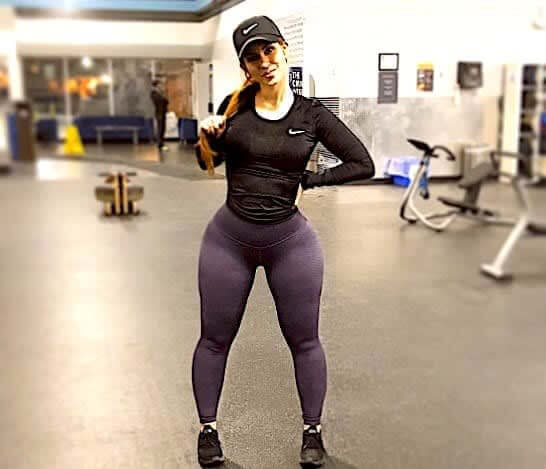 There's nothing wrong with it when you are standing in a crowd. But here, she is already in focus, and still, she blurred everything to make herself stand out.
18. Never Ever Skip a Leg Day
You can find a lot of memes on the internet about people who skipped leg day, but why is it so important? Well, here is proof to show you what would happen if you skip leg day. If you do it, it could result in a severely unbalanced body, like this guy has in the photo.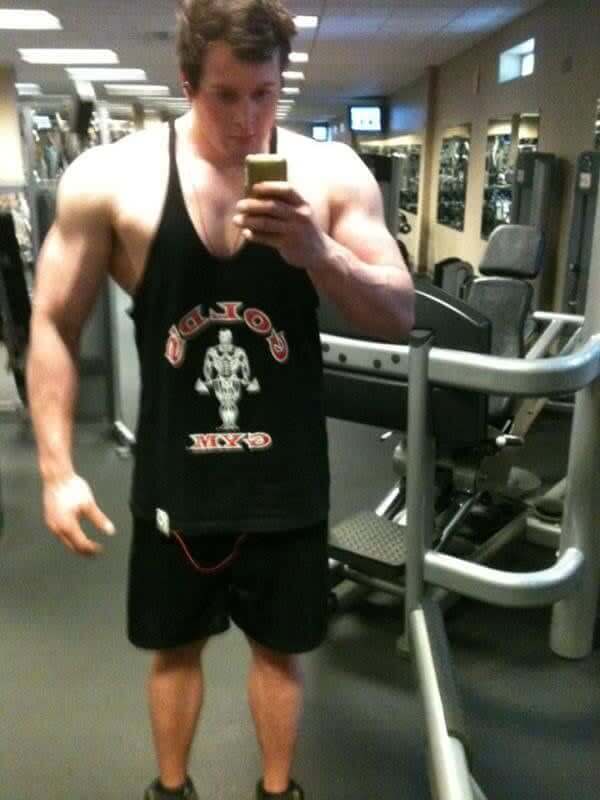 Why does this guy look a lot like Johnny Bravo? Or maybe every guy who skips leg day looks like Johnny Bravo.
19. Not The Right Exercise
Although there are exercises in which you can work out with your baby, we are 100% sure this is not one of them.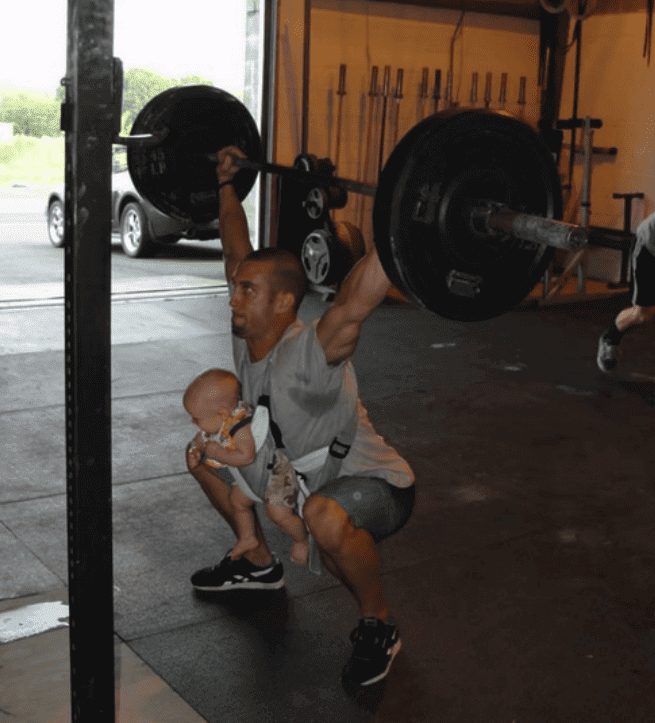 The baby seems like he doesn't care a lot about what his father is doing, but we think that it is quite risky. It is best to try safer exercises with babies.
20. Don't You Think That's Double Standards?
Now that fast food franchises offer so many meal options at ridiculously low prices, it seems like they too may need to hit the gym. According to many fitness experts though, McDonald's meals do not fit a lifestyle that is focused on getting into shape.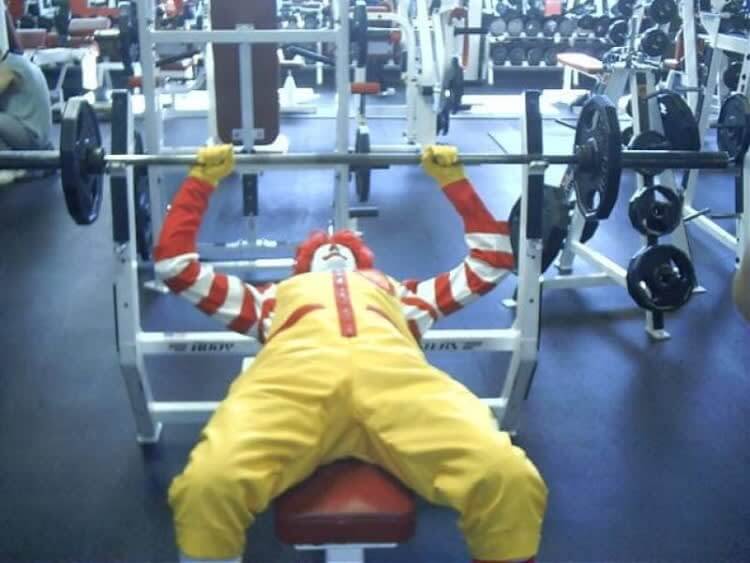 As Ronald is trying his best to lift those weights, he doesn't look comfortable. The same is likely going to happen if you keep on eating fast food and don't exercise.
21. A Group Work Out
This is by far the strangest way we have ever seen a group work out together. There are other techniques to strengthen your core muscles, but piling up to form a human building block is not the right way to do it.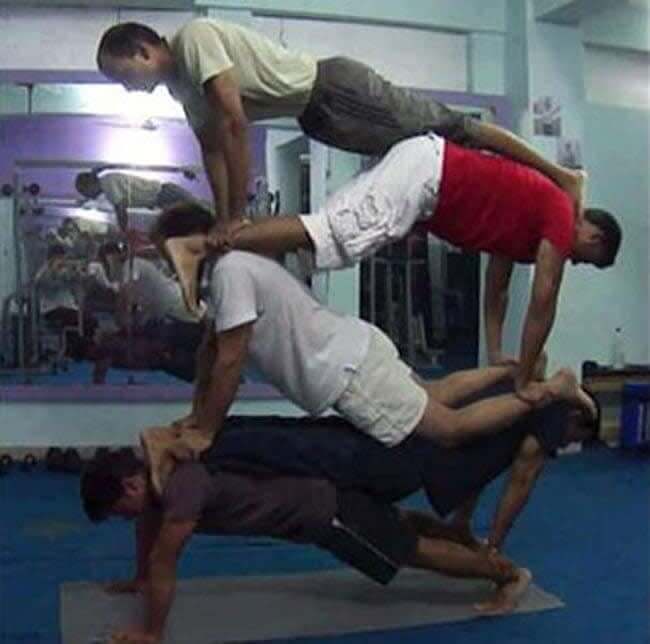 What happens if one of them loses balance? The collapse may hurt someone. Most probably, the guy at the bottom will get injured. There is a possibility that these guys don't have the proper equipment, so they had to think outside the box.
22. A Recipe for An Injury
Someone saw this young guy using the equipment the wrong way and they didn't stop him. Instead, they took out their phone and took a photo. Crouching on weights while trying to lift one can be really dangerous. His friend, who is sitting on the bench, is okay with this new technique though.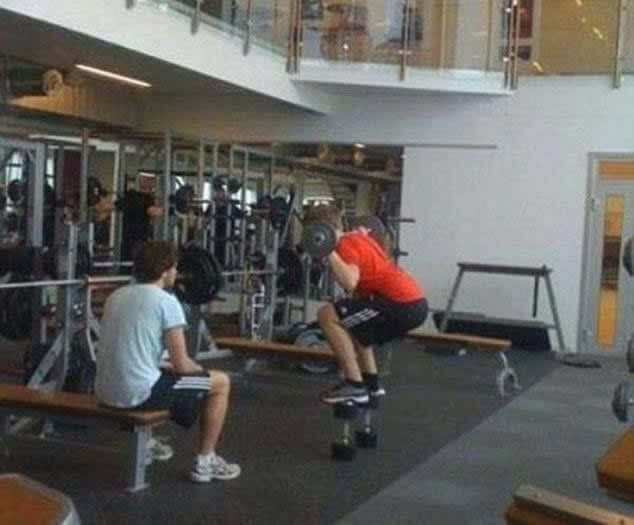 It seems like he is waiting for his turn to try this technique. But they should know that working out like that increases the risk of getting a really bad knee injury. We live in a crazy world.
23. A New Way To Treadmill
Although technology has made our lives a lot easier, it also made us seek convenience in almost everything.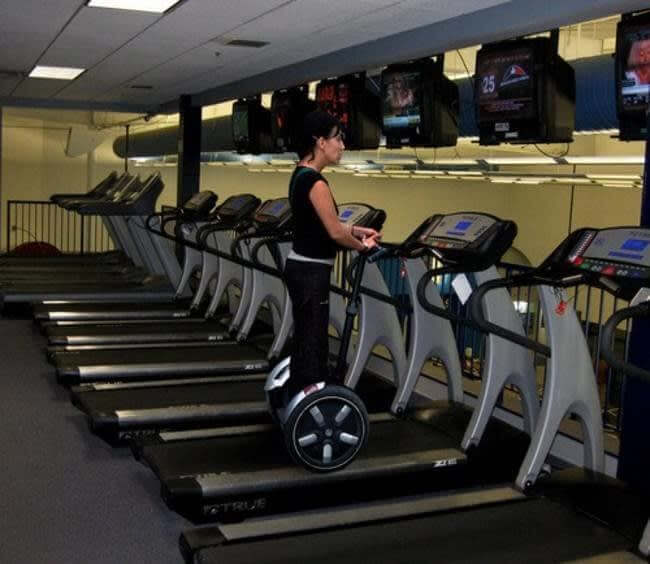 The purpose of a treadmill is quite simple, but this lady purchased a Segway just so she could cut down unnecessary walking. She's a genius.
24. That Defeats The Purpose, Right?
We agree that escalators are great for malls and other buildings, but they have no place at a fitness center. Maybe we're missing out on something so do let us know if we are wrong about it.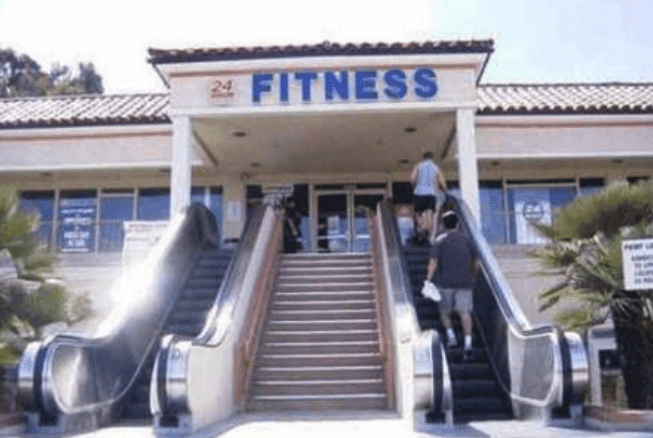 We think that placing escalators outside a gym defeats the purpose of the gym. It is like telling you kid to make sure he saves money and then turning around and blowing your savings on a new Porsche.
25. Multitasking At Its Best
This lady is showing that there is no need to wait and waste time when you can easily do two or more things at the same time. She could have easily waited on the couch in a comfortable environment, but she decided to do some exercise to kill time.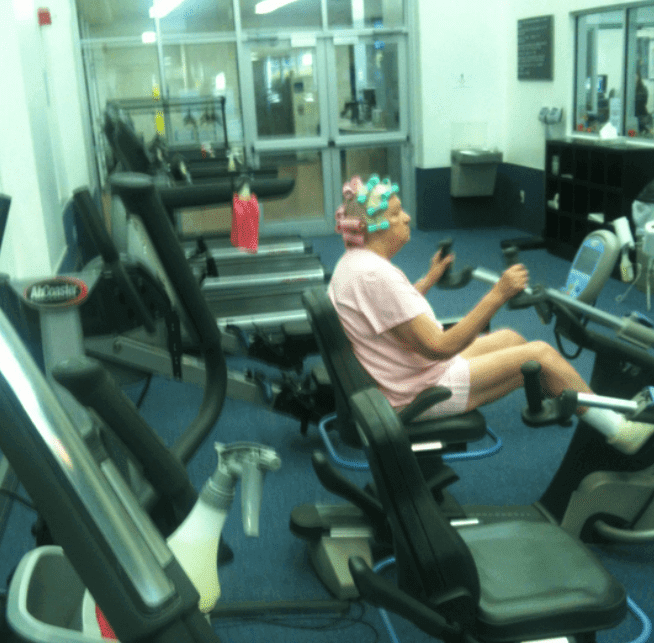 We have to praise this strong woman as she is not letting her age come between her and what she wants to do. Massive respect for you lady!
26. No Work Out Without Music
There is a lot of research that shows listening to music while exercising can help increase stamina and improve the workout as well.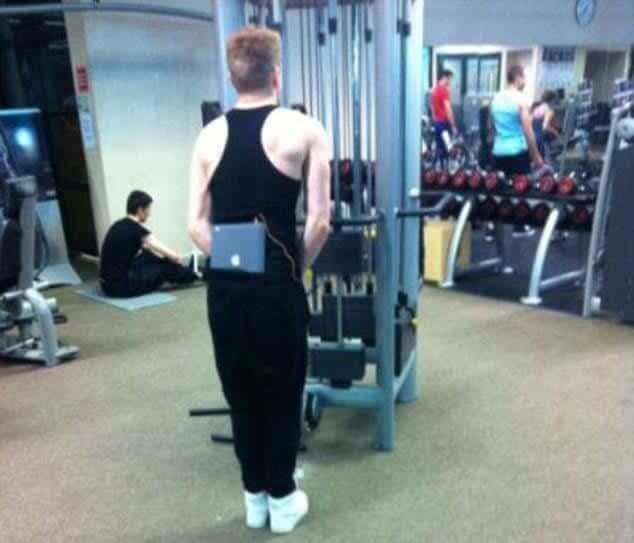 It seems like this person took the research too seriously and made a decision to do everything he can to work out with music. That explains why he went as far as plugging his earphones into his tablet. However, we do like his commitment to exercising with music.
27. He Needs Help
We have no idea why the hell gyms employ trainers as people are pretty good at not making mistakes. In fact, people don't need trainers at all. Take this photo as an example.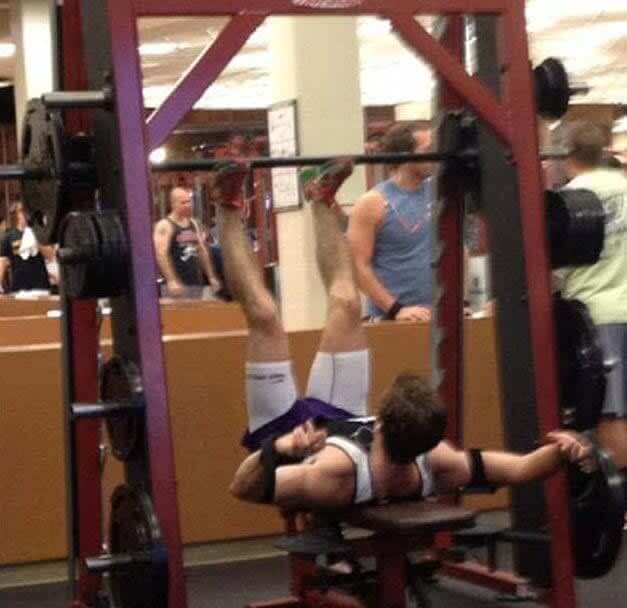 This guy should have asked for advice but it seems like he knows the right way to work out. We just hope that a "non-helpful" trainer stepped in and tried to stop him from lifting weights with his feet.
28. Wait, Don't Go For It
We are so thankful that this is not a video because we don't have the courage to watch what happens next. It seems like the person at the bottom of the weight machine is only concerned about the number of weights instead of the pressure applied to his lower body.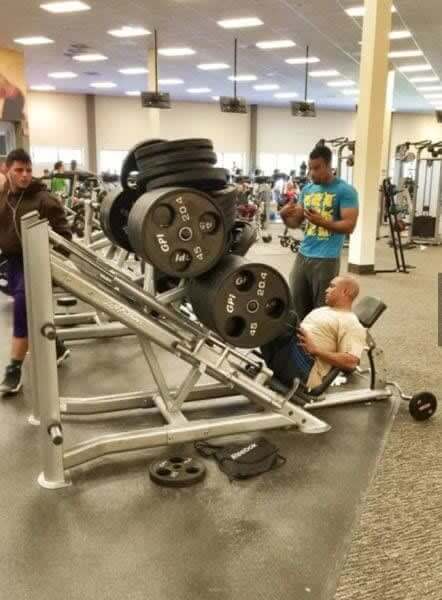 We can understand that he wants to push his limits, but there is no need to break every lower bone. And then there is a sidekick trainer who seems to be perfectly fine by what is happening. This looks so dangerous and we hope nothing bad happened.
29. When Balancing Life and Work is Important
For a person to balance professional and personal life is quite difficult. But if someone feels that it is not easy, they should look at this person.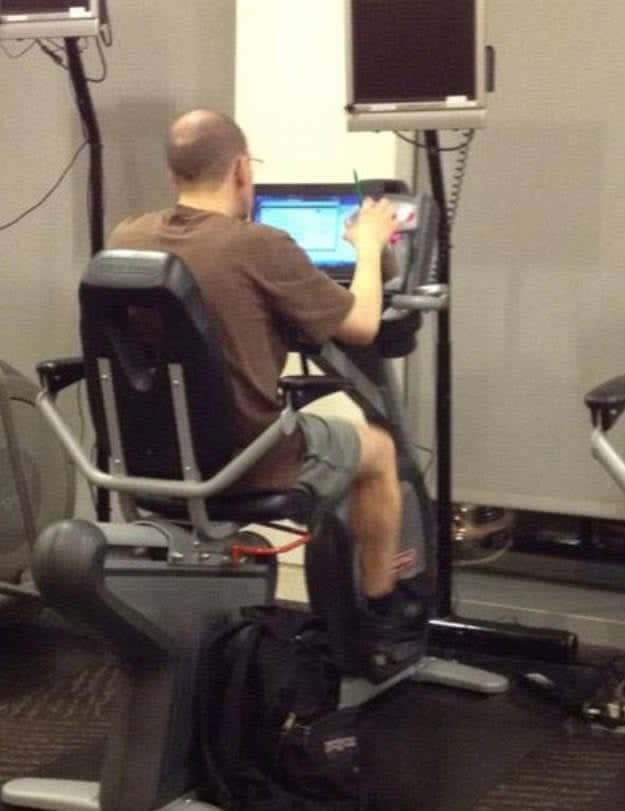 He has found the full-body workout – doing work and working out. It is simply amazing.
30. Making The Gym More Fun?
Some people go to the gym with a non-serious attitude. This woman is eating a full-fat cupcake and reading an Entertainment Weekly magazine without any worry in the world.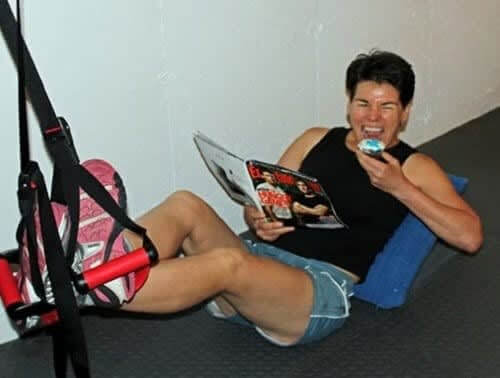 She might have made a bet with her husband to go to the gym but never promised she would do anything exhausting while she was there – she simply said she would go to the building.
31. Working Out for Fantastic Four Reunion?
At first, we thought it was The Thing from Fantastic Four, but it seems quite clear that he disappeared after the 2005 movie release. As this guy is trying to lift those heavy weights, it looks like his brain is visible through his skull.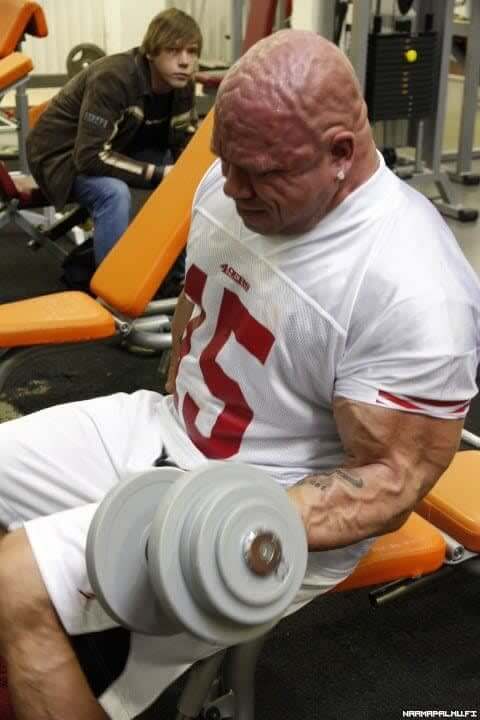 His veins are popping out and it looks scary. The only good thing about the photo is the guy in the background who is keeping an eye on this guy.
32. And Where's The Handbag?
When it comes to workout footwear, sneakers or even tennis shoes can be fine. But we have no idea why this woman wanted to come to the gym in heels to work out. Let us know if this is a new technique to enhance balance and strength.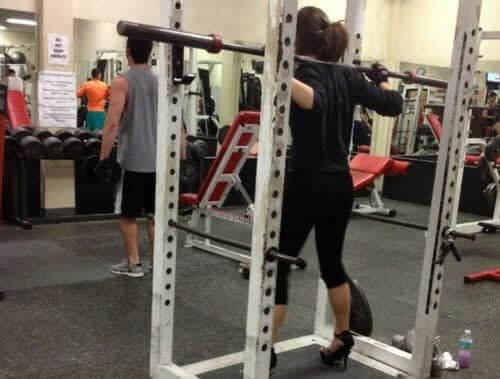 Nevertheless, we just feel that it can be super uncomfortable to workout in heels. As it is her choice, we will recommend that don't try to follow her because wearing heels while working out can cause a serious ankle injury.
33. An Invention for Bigger Rodents?
People who like to stay in shape find it really exciting to try new inventions in the field because they get to test their body limits and get better results.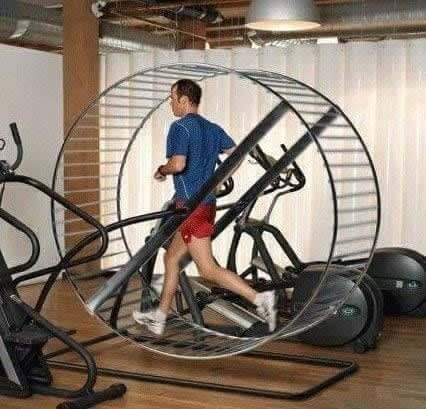 But we have some concerns related to this instrument because it resembles a hamster running wheel and doesn't look safe at all. Would you give this one a try?
34. The Student Has Become The Master
We don't want to judge anyone here but the gym trainer looks a lot like the person he is pointing his finger at, tell us if we are wrong here. But one thing we know for sure that the student is in better shape than his master.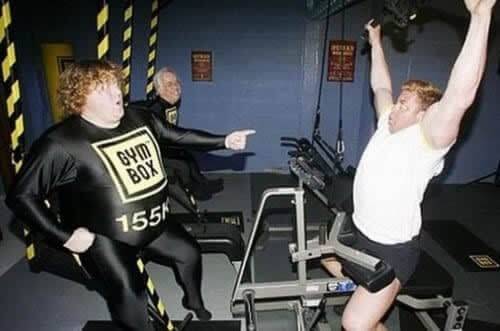 It seems like the trainer is not giving a personal example of a healthy individual. As it is a local gym and not a big brand, we are pretty sure it doesn't happen in most professional gyms.
35. Mr. Potato Head Trying to Be Fit and Healthy
It seems like Mr. Potato Head spent a lot of time sitting on his couch and not working a lot. That's why he has put on some weight. Now that he has left the TV screen he's trying to balance both personal life and the gym and we are so happy for him.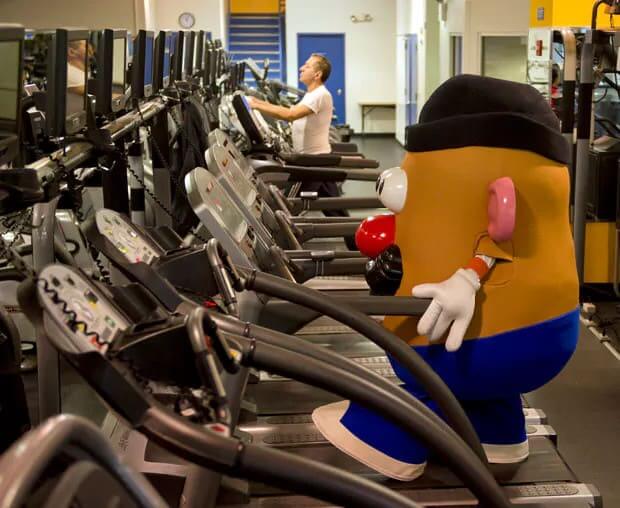 Although the costume seems like it gets hot inside quite easily, it can help in both losing water weight much faster and passing out from dehydration.
36. Don't Lift More Than You Can Handle
This guy tried to show off his latest workout and it looks clear that he needs to work more. It would have been best if he had squeezed in a few one-on-one training sessions before trying to lift heavy weights.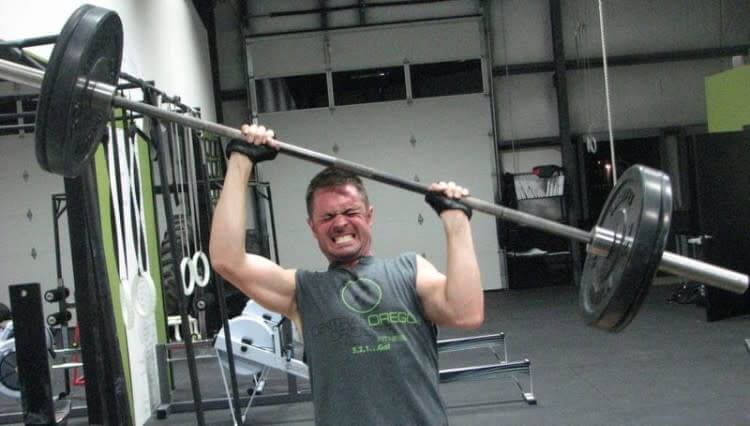 Not only that he was unable to impress anyone, he also narrowly missed getting injured.
37. Tail End Of The Gym
A dog is a man's best friend and that's why they often try to become a part of their owner's workout session. This doggo wanted to exercise and he looks ecstatic to do some bench-pressing.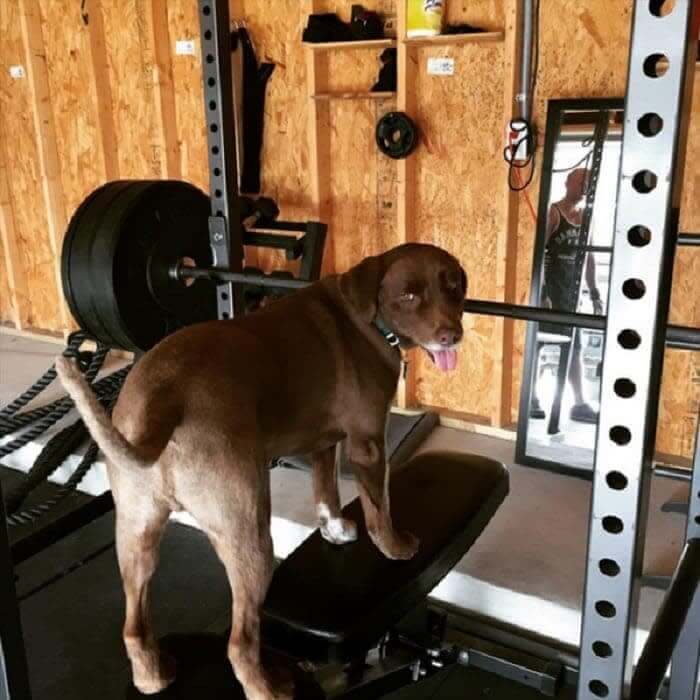 Although the doggo is already quite fit and in shape, it seems just wants to exercise to spend quality time with his daddy.
38. No Time For A Gym Outfit
We got to say that we are super impressed by this guy's dedication to attend the gym before it becomes crowded with people. He came back from work, took a shower, and came straight to the gym (without wearing gym outfit).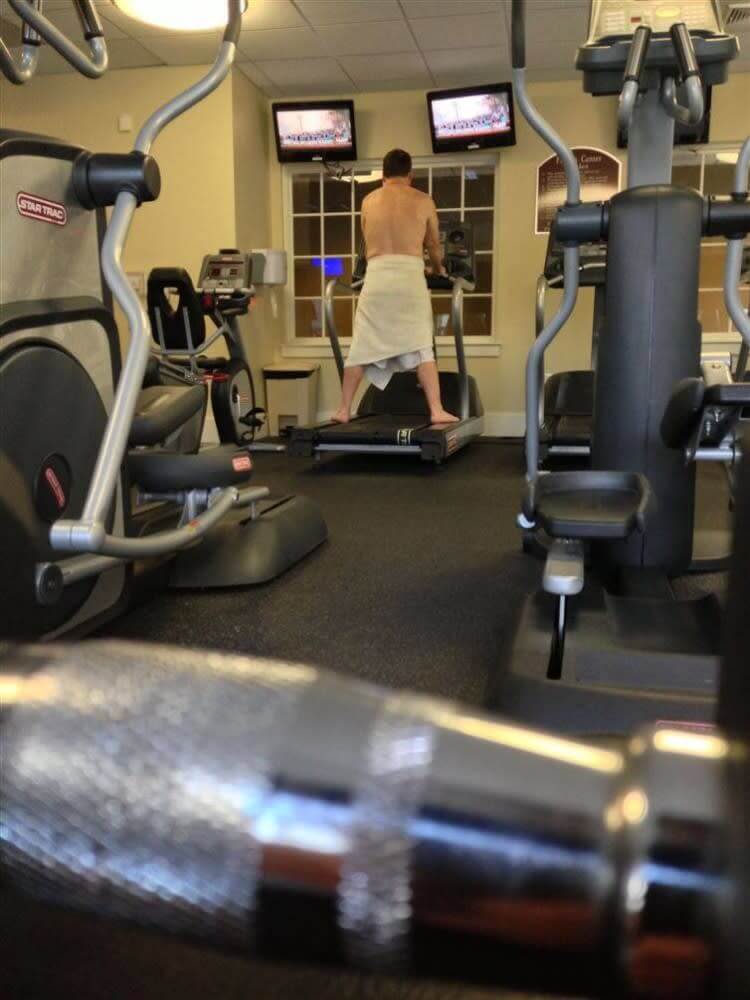 He is an example of that guy who always tries to save time. But we are not sure he was able to work out the entire time without the fear of his towel falling in front of everyone.
39. Mandatory Gym Selfie
One of the most outspoken rules of working out is to put on a fierce face and take a selfie (it wasn't always like this).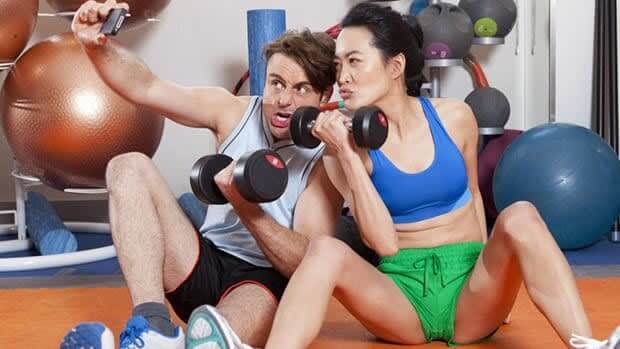 Now people go to the gym not to stay in shape but to take photos of them doing workouts. This dynamic due has pulled off a flawless duckface pout without breaking a sweat. Bravo!!!
40. No Time is a Bad Snack Time
We have seen so many videos and memes of people and treadmills, but there is always someone who thinks they can do better.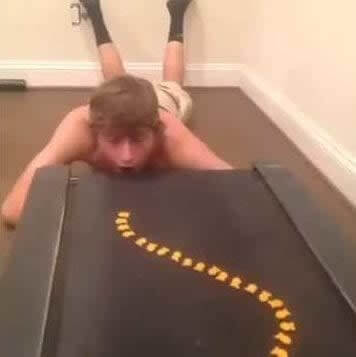 For instance, this young fella wasn't interested in using the treadmill to run or power walk. He was more interested in using it as an automatic feeding machine. We've got to give 0 points for his laziness but 100 points for his creativity.
41. Can't Help It
Some people don't want to do work even when they are in an ideal environment. This lady has everything she needs for a good work out and yet she's still sitting on a chair that's on a treadmill.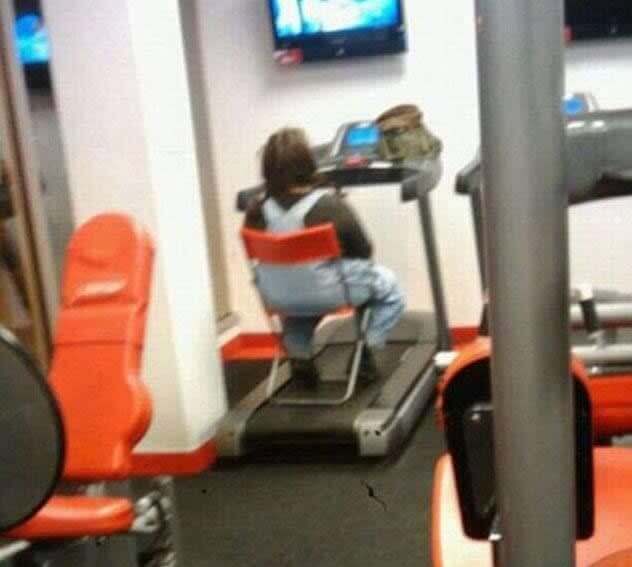 It is unclear if this lady wanted to come to the gym or was forced to be there. Whatever she chooses, we hope she enjoys it.
42. Exercise for an Active and Healthy Brain
You may have heard or read that "treat your brain like a muscle by exercising it." Well, it seems like this person took it way too seriously.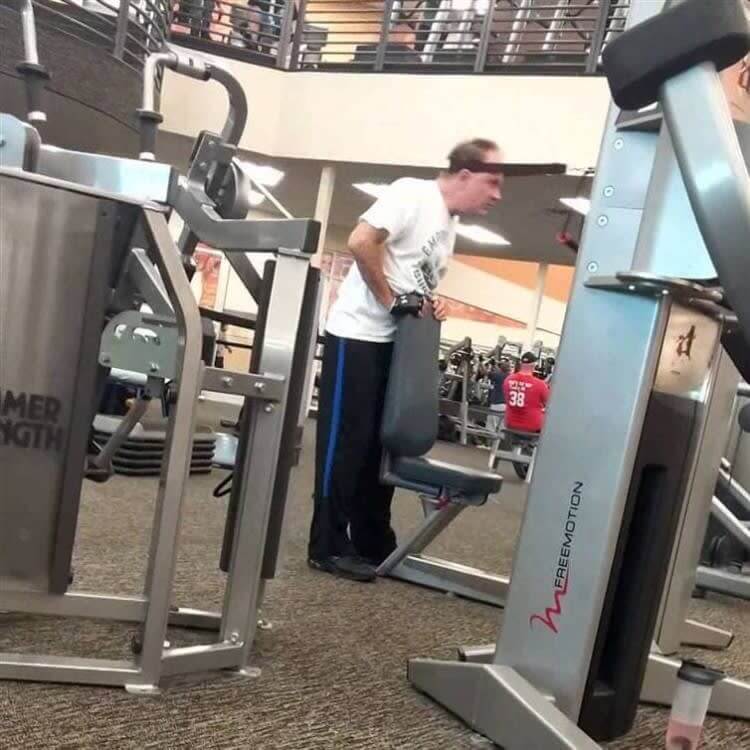 Or maybe he doesn't know quite yet how to use the machines in the gym properly. One wonders what he is thinking about while doing this "brain exercise."